---
Do you want to protect your Mavic from being damaged or broken?
Now all kinds of Mavic related spare parts are in stock in Foxtech.
---
The Clouds is a big but light weight EPO plane featuring large size, light weight and heavy load. The specially made EPO material also offers it a strong structure that could sustain a few crashes. The dual engines design gives this plane a lot of redundancy power and great efficiency for long fly time and high speed at the same time. The Clouds is an ideal platform for long fly time, high altitude and maybe high flying speed and the same time. The Clouds can go over 80 km and back thanks to its maximum 3 hours fly time. Battery that we can use on the Clouds is up tp 4S 22000mah or 6S 16000mah to guarantee the long fly time and long fly range.
---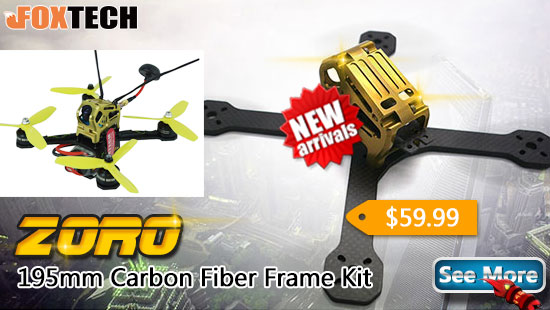 ZORO is designed to be a racing quadcopter featuring small size, light weight and fast speed. By using 7075 alluminum alloy, 12.9 degree screw, the ZORO is then super light and super durable, and compared with others material the CNC alluminum alloy has the optimal properties for effectively maximizing heat dissipation. The specially made structure also greatly reduce the air resistance. This ZORO quadcopter can be compatible with Flycolor Raptor S Tower and other standard F3 flight controller. And you can chose the BLheli 20-30A esc, 2205 2300-2600KV motors and 5040-5045 prop, battery that we can use 4S 1300-1800mah.
---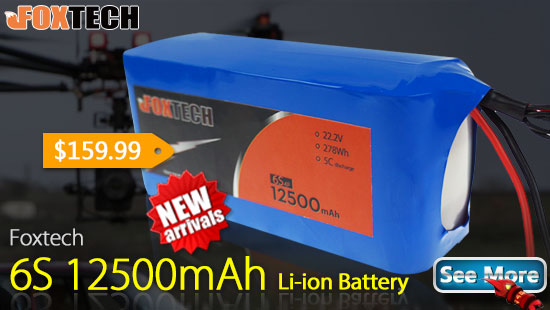 Foxtech 22.2V 6S 12500mAh Li-ion Battery has 5C continuous discharge current, which is suitable for long flying time multicopter, such as Foxtech Hover 1 quadcopter that can fly over 1 hour.
---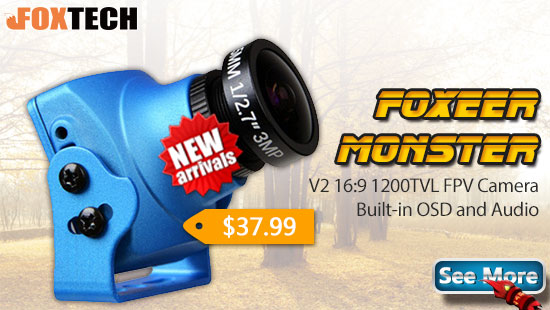 Foxeer Monster V2 FPV camera is upgraded to alloy case, and it is more easy for installation. Foxeer Monster V2 with built-in OSD and Audio, features more vivid image, better WDR(Wide Dynamic Range), low latency as well as 5-40V wide voltage, these features make Foxeer Monster V2 a perfect camera for 16:9 goggles and monitors.
---