---
---
SKY01S FPV glasses have two built-in 5.8GHz receiver modules, two antenna ports and binocular display modules. 5.8GHz receiver works in diversity mode, it supports 6 bands and 48 channels. This SKY01S FPV glasses have channel search menu. SKY01S is compatible with all Foxtech FPV 5.8G transmitters.
---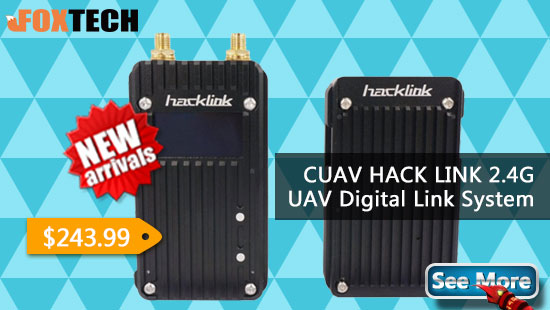 This CUAV HACK LINK Digital Link System is for PIXHAWK Flight Controller, it supports 720P HDMI real time video transmission and mavlink data, also supports PPM remote control data forwarding. You can see and control the video by phone or tablet PC. This CUAV HACK LINK includes Air station and Ground station, these two stations use the IMX6 CPU, and run Linux system, which could maximumly ensure the reliability of the system. Distance can reach 2-3 km.
---
Tarot Peeper Vehicle Three-Screen Ground Station System has one 15.6" and 2pcs 8.4" Monitors. It is applicable to high-end commercial and industrial unmanned aerial vehicle, and mobile control platform used for BVR flight control design.The intuitive user interface design and the real-time flight attitude feedback allow the users to have sufficient understanding of flight status and equipment energy consumption. The devices of Peeper Ground Station feature a highly integrated modular design, and each electric component or device is designed with protective layer and installed as per industrial assembling requirements, so these devices feature a high safety and reliability.
---