---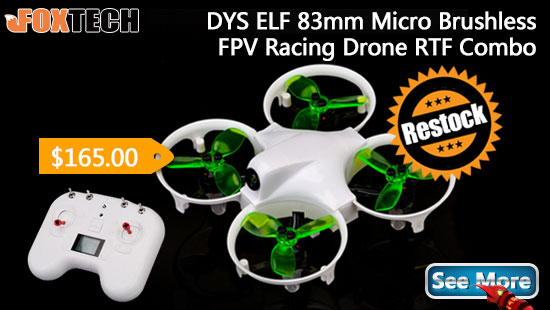 DYS ELF 83mm quadcopter is available now!
DYS ELF 83mm quadcopter could be the smallest racing quad ever using brushless motors. It's almost like a full-sized racing quad with F3 flight control and 4 in 1 Esc squeezed into a 83mm tiny body with even ideal propeller protection. By using the race degree hardwares like 4 in 1 Dshot ESC, F3 flight control,1102 KV10000 brushless motor, this quadcopter can do all the moves that a 220mm racing quad could do and more than that, you can fly it safely indoors or outdoors avoiding high spare part cost.
---
Foxeer Monster V2 FPV camera is upgraded to alloy case, and it is more easy for installation. Foxeer Monster V2 with built-in OSD and Audio, features more vivid image, better WDR(Wide Dynamic Range), low latency as well as 5-40V wide voltage,these features make Foxeer Monster V2 a perfect camera for 16:9 goggles and monitors.
Foxeer Arrow V3 with built-in OSD and MIC, FOXEER ARROW V3 is the advanced version of FOXEER HS1177, it features great WDR and brilliant image quality. The camera case is made of light metal, which can better survive from vibrations and crashes. The built-in MIC makes the flying experience more immersive.
---
SKY01S FPV glasses have two built-in 5.8GHz receiver modules, two antenna ports and binocular display modules. 5.8GHz receiver works in diversity mode, it supports 6 bands and 48 channels. This SKY01S FPV glasses have channel search menu. You could press the "Search" button to pop up the channel search menu. This SKY01S is compatible with all Foxtech FPV 5.8G transmitters.
---