---
The Spare Parts of DYS ELF 83mm Mirco Drone are available now: propeller, motor, remote control etc.Learn more.
---
Arkbird VTOL airplane is an unique fpv fixed wing plane with vertical taken off and landing function, perfectly compatible with Arkbird autopilot 2.0 and 2.0 lite, including balance mode, fence mode, return home mode, VTOL mode and other wonderful Arkbird autopilot modes. It is also a unique fixed wings fpv plane with quads characteristics in the FPV field.
---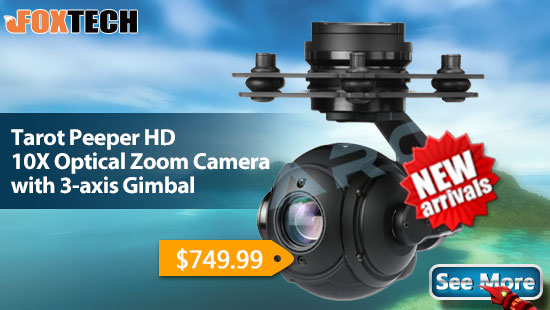 TAROT PEEPER T10X is a great 3-axis gimbal for model aircraft enthusiasts, it provides a 10X optical zoom. The F2.0 uses 1/3 colour CMOS4 image sensor which supports approx.4 million effective pixels(2688 x 1520). With unique internal wiring design, built-in IMU gimbal control module, specialized servo drive module, this peeper T10X can be widely applied to various model aircaft activities and entertainments.
---