---
Video:
First Report for Hybird UAV Sea-Crossing Flight
---
New Arrival:
Foxtech 8120 Power System Combo is released. Foxtech 8120 100KV FOC ESC HV Combo is designed for agricultural drones which features powerful software and reliable hardware. The advantages of Foxtech 8120 KV100 FOC power system are higher efficiency, rapider response,efficient heat dissipation, waterproof,rustproof and anti-corrosive etc.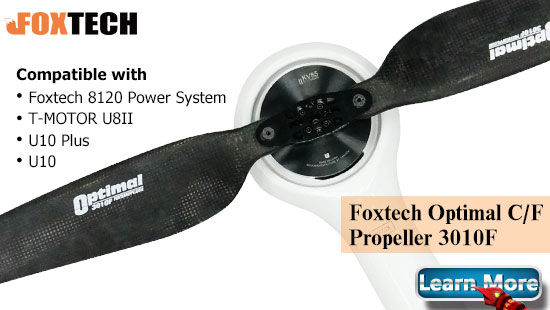 Foxtech Optimal 3010F C/F is a foldable propeller designed for heavy duty multicotpers which features excellent quality and low price. Optimal 3010F CF propeller is compatible with Foxtech 8120 100KV FOC ESC HV combo, T-MOTOR U8II, U10 and U10 Plus.
T-Motor Quick-Attach-Detach prop adapter allows for a quick change of your different size propellers.
---