---
New Arrival: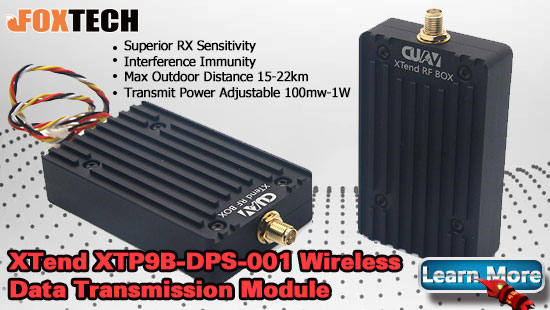 XTend RF module provides unprecedented range in a low-cost wireless data solution. This XTend RF module is Pixhawk Version. The module is easy to use, requires minimal power and provides reliable delivery of critical data between devices.
---
CUAV SX Radio is a data transmission module which adopts XTEND chip and features high power, high rate and high sensitivity. CUAV SX radio is smaller and lighter,and could provide a stable data transmission between drone and ground.
---
3DR RTB Radio Telemetry Bluetooth Box is for PIXHAWK version. The RTB box wirless module adopts 3DR open source firmware which could be compatible with 3DR telemetry receiving end of same frequency. This RTB box has built-in Bluetooth 2.1 module, which supports PC or Android telephone wireless connection. The RTB box has one built-in 850mah battery which ensures 8 hours working time.
---
T-MOTOR MN705-S and MN605-S motor-a stable motor with strong power and long service life, also features excellent cooling performance, anti-high temperature and anti-overload etc.
---