---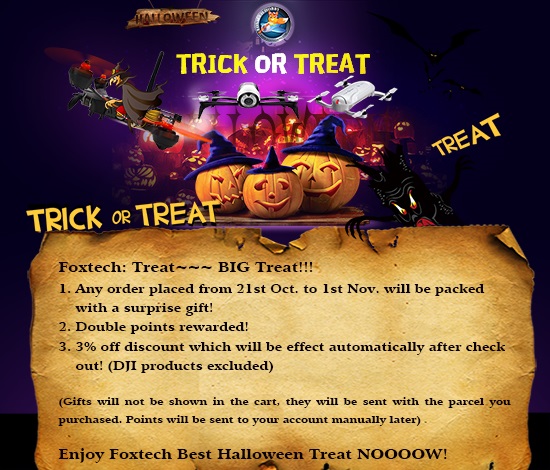 Knock Knock!!!
Trick or Treat????
Foxtech: Treat~~~ BIG Treat!!!
1. Any order placed from 21st Oct. to 1st Nov. will be packed with a surprise gift!
2. Double points rewarded!
3. 3% off discount which will be effect automatically after check out! (DJI products excluded)
(Gifts will not be shown in the cart, they will be sent with the parcel you purchased. Points will be sent to your account manually later)
Enjoy Foxtech Best Halloween Treat NOOOOW!
Foxtech Hobby Team
---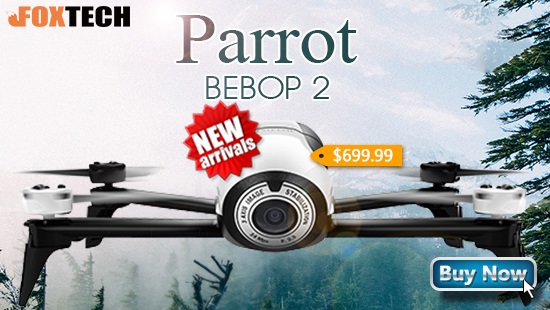 Paired with the Parrot Skycontroller 2 and the Parrot Cockpitglasses, your Parrot Bebop 2 drone reveals new capabilities. Embark on long-distance courses combining extreme piloting precision and ultra real viewing! By piloting with the FPV goggles, you're totally immersed: explore previously inaccessible places like never before and perfectly capture the best pictures.Pack Bebop 2 FPV, Take to the skies with immersive flights!
---
For years and years tests and practical applications, Foxtech D130 successfully complete his mission in different areas such as Hollywood movies,disaster cruising, firefight department, forest protection etc.It not only complete difficult actions in professional ares but also save lives and properties for the world. Here is another D130 combo for your choice: D130 X8 V2 U10 combo upgraded package includes D130 V2 frame+ T-motor U10 motors+Foxtech multi-pal 80A-HV ESC + Supreme 2880 pro propellers.
Learn more about this D130 U10 Combo.
---
Be small, Be intelligent, Let's dobby with Dobby pocket drone.The world's first intelligent drone using the SMART drone turnkey solution.Unparalleled elegance in the palm of your hand. The first mini intelligent drone that fits in your pocket.Its pet-like design makes DOBBY fun to use. The drone can loop the loop. One key rolling, then hoover stably. Say goodbye to traditional gimbals and be the first to use the world leading digital 3-axis stabilizing technology which is both compact and equipped with anti-shake technology.
Learn more about this Zerotech Dobby.
---