---
New Arrival:
XRotor PRO 6215 is a high efficiency power system for agriculutral drones. XRotor Pro 6215 is optimized FOC power system, which features low vibration and noise, waterproof, rustproof and Anti-corrosive,also features strong impetus,the 23-inch precisely molded propeller can produce the thrust of up to 12kg.
This is T-MOTOR ultra light propeller,which features high efficiency. This propeller is compatible with Alpha 60A HV, Alpha 40A LV,MN7005 KV115/KV230 and MN701S KV135.
---
Hot Sale: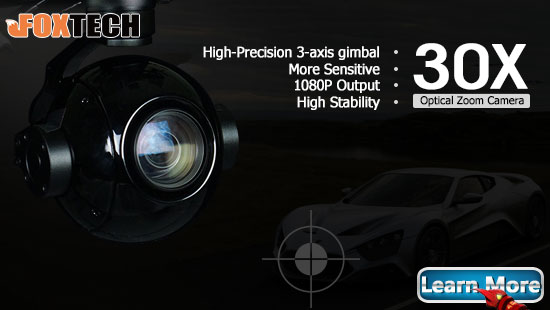 FOXTECH SEEKER-30 is a high-precision professional 3-axis gimbal with a 30X Optical Zoom Camera. It supports 1080P output, and the 30X optical zoom makes it possible to see objects in detail over distance.The gimbal features high stability and high precision, and the camera could keep very stable during the movement.
---