---
Video:
Nimbus 1800 Vectored Yaw VTOL FPV Plane! Tricopter Long Range VTOL available!
---
New Arrival: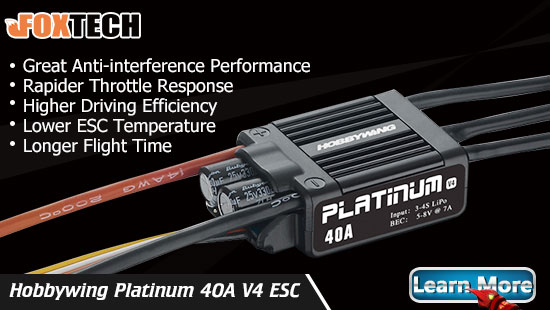 Hobbywing Platinum 40A V4 is an high quality ESC which features great anti-interference performance. And it has a quicker response to the throttle change, also features high driving efficiency and longer flight time.
---
Hot Sale:
FOXTECH GAIA 160HY is a long flight time hexacopter with an onboard 2000w generator. The flight time is more than 5 hours. GAIA 160HY uses cutting edge technologies on the power system, its motors, ESCs and propellers are all optimized and tested for long duration and long range flight.It has good power redundancy, Hexa-copter can still fly or land in case one propeller or motor is gone. GAIA 160HY-Hybrid can adapt to extreme weather conditions like 17m/s wind, -40℃ low temperature, +40℃ high temperature, heavy rain, fog etc.
---