---
Video:
Once NOVA controller lamp blinks "green and red", it is reaching the maintenance cycle (50 hours). NOVA is still able to be started . Please follow this video to maintain your generator.
---
New Arrival: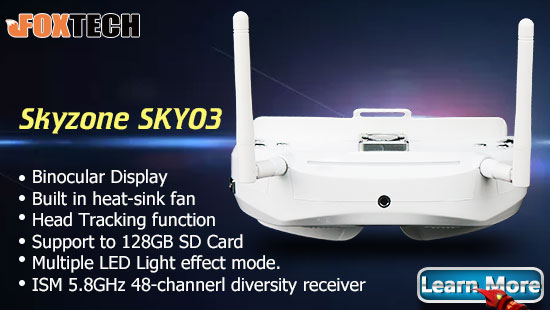 Skyzone SKY03 is released! Skyzone SKY03 is a 5.8G 48CH 3D FPV Goggles. Compared with the old version,SKY03 is equipped with a heat-sink fan to prevent fogging,and it supports multiple LED light effect mode. The new DVR system further enhances the quality of analog video recording, and adopts the high-quality H.246 video compression technology, saves more storage space. SKY03 supports 128GB high-capacity memory card(UHS-I U1), also supports automatic video recording.
---
Restock:
Nimbus 1800 Tilt VTOL- a Tri-copter VTOL with vector Yaw, which can take off and land vertically like a multicopter, also can fly fast as a fixed wing.
---