---
New Arrival:
DVL-2 1080p Full-HD digital video system is released!
Compared with DVL1, DVL2 receiver is equipped with a planar antenna,it can be adjusted automatically to get a better signal and ultra-long communication distance. Also the transsmiter is equipped with an OSD module, so beside the video, the OSD data also could be displayed on the monitor, like transmitter voltage, transmitting power, longitude, latitude, height etc. DVL-2 digital video system is based on 5G frequency and with a maximum 5km range on the ground, more than 8km in the air.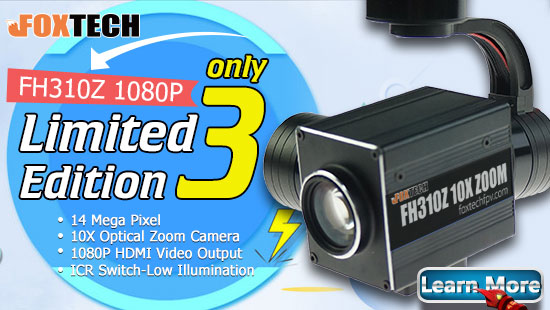 This FH310Z is a updated version. The video output resolution is updated to 1080P. This FH310Z offers 1080P HDMI output for HD video transmission back to the ground. It also has analog video output port, so it is possible to use traditional analog 5.8G video link or the high resolution HD video link.
---
Hot Sale:
Auto object tracking module is a device for zoom camera that could real-time track the static or moving target by working with UAV and other high-speed moving platforms.It has HD version and SD version. Most of Foxtech series zoom camera with gimbals can be equipped with this Auto Object Track Module.
---