D130 (Devourer 130) Titan is a great milestone of Foxtech product line. It can lift very heavy load with a relatively small wheelbase, combining with its folding arms and landing gears.
D130 Titan can be your ideal tools for aerophotography,emergency rescue,aero-logistics and other applications more than your wildest imagination. D130 Titan uses FOC ESCs and high power motors that ensure very fast response and
very big loading capacity and a very stable fly performance within its thrust range. Being an very unique X8 co-axial multicopter,D130 has at least 20 kg lifting capacity on each arm, and each arm has enough redundancy power,so the
D130 can still fly even with two motor failure on different arms. D130 Titan is equipped with dual folding landing gear system, it has enough space between the center board and the ground that can hold a red epic camera and its gimbal.
The dual landing gear system can also sustain some impact in case of a hard landing, which can not be done with those single landing gear system.
You can also ask for a customized D130 Titan multicopter,with a strong technical team, Foxtech is able to design and build the parts you need that should be able to make D130 able to lift heavy load over distance, or to be an agriculture
sprayer, water gun drone, illumination drone and any other drone types that you can imagine.
Welcome to join Foxtech Facebook D130 group: https://www.facebook.com/groups/103429476685069/
Discuss more about D130 Titan Version Combo on RCG:
https://www.rcgroups.com/forums/showthread.php?2860105-Foxtech-Devourer-130%EF%BC%88D130%EF%BC%89Titan-Version-Co-axis-Octocopter-Combo-Official-Thread#post37189242
Note: The default version of landing gear is 40cm length, please email to support[email protected] for customization of 50cm landing gear version.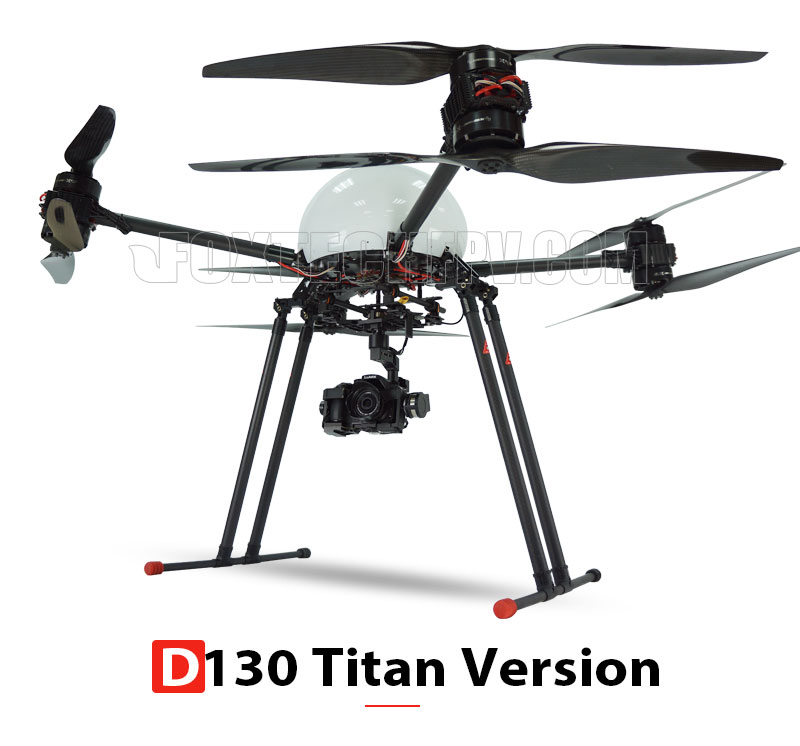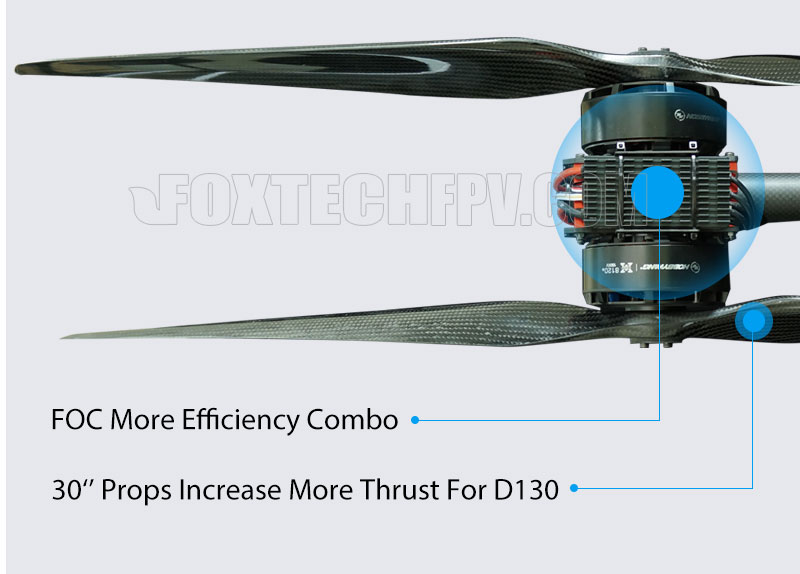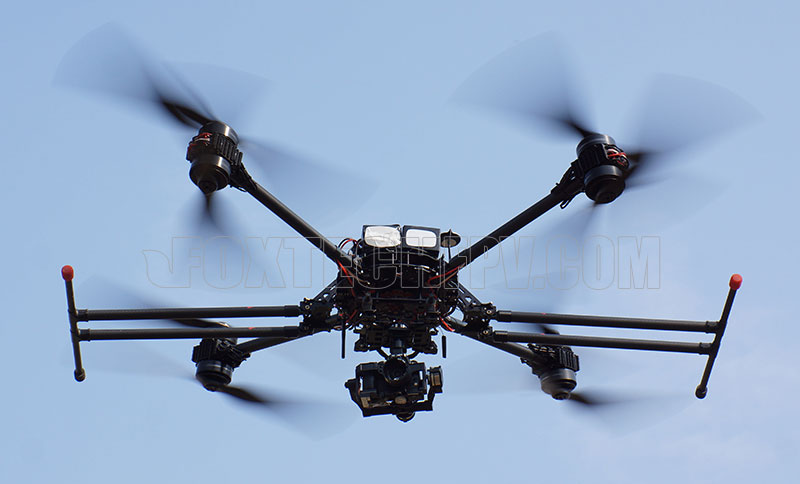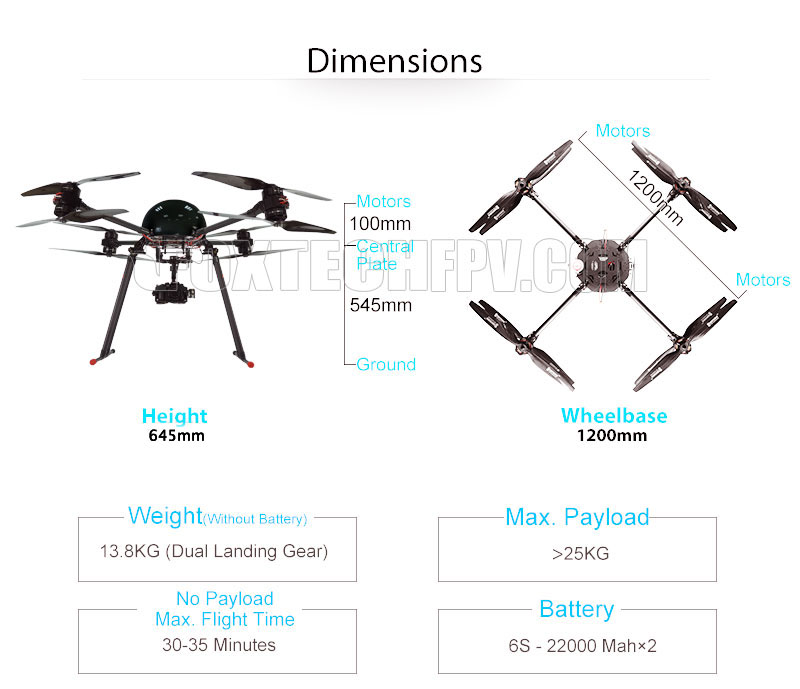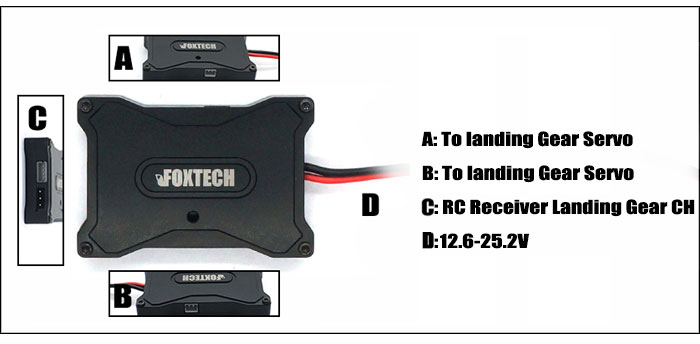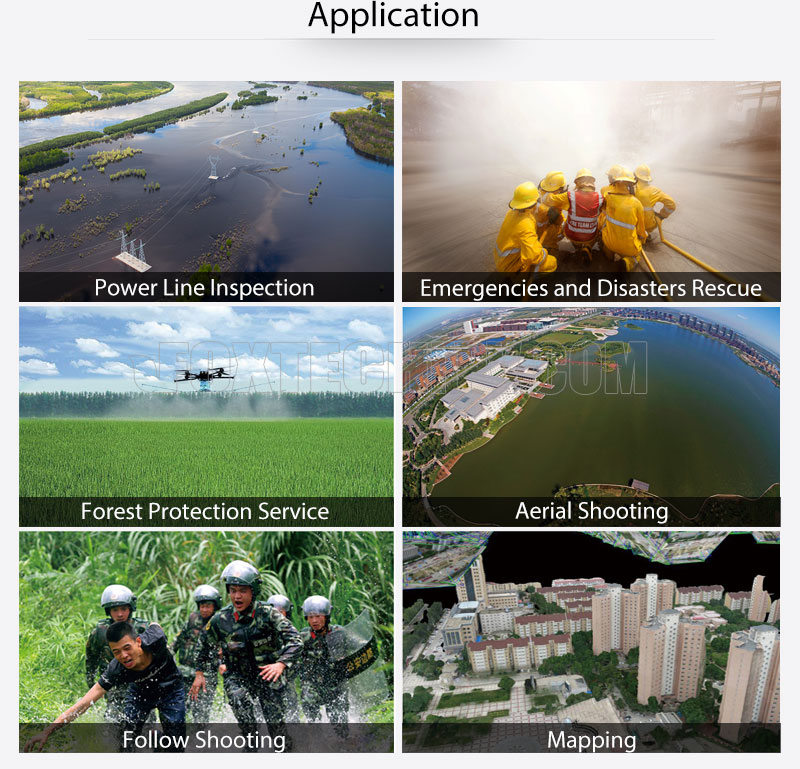 Your Purchase Includes:
ARF Combo:
-1x Foxtech D130 X8 V2 frame
-8x T-MOTOR P80 III Pin KV100
-8x T-MOTOR FLAME 80A HV V2.0
-4x Foxtech Supreme C/F Propeller 3010T
-1x DJI A3 Flight Controller
-1x Power Distributor
-1x D130 Gimbal Loading Kits
-1x D130 Dual Landing Gear
-1x Plug/Cable/Wires/Shrink Tubing etc
RTF Combo:
-1x Foxtech D130 X8 V2 frame
-8x T-MOTOR P80 III Pin KV100
-8x T-MOTOR FLAME 80A HV V2.0
-4x Foxtech Supreme C/F Propeller 3010T
-1x DJI A3 Flight Controller
-1x Power Distributor
-1x D130 Gimbal Loading Kits
-1x D130 Dual Landing Gear
-1x Futaba 14SG Radio Control
-1x Plug/Cable/Wires/Shrink Tubing etc
ARTF NO FC Combo:
-1x Foxtech D130 X8 V2 frame
-8x T-MOTOR P80 III Pin KV100
-8x T-MOTOR FLAME 80A HV V2.0
-4x Foxtech Supreme C/F Propeller 3010T
-1x Power Distributor
-1x D130 Gimbal Loading Kits
-1x D130 Dual Landing Gear
-1x Plug/Cable/Wires/Shrink Tubing etc
Optional:
-Foxtech D130 Canopy
-Foxtech Foldable GPS Seat
-Foxtech 6S 22000 Lipo Battery
-Futaba 18SZ 2.4Ghz Radio Controller