F1000 Pro Quadcopter is released!
F1000 Pro is a long flight time quadcopter, F1000 Pro is made of carbon fiber material which features light weight and high strength, the canopy of F1000 Pro is made of glass fiber so that the GPS signal won't be blocked. The closed fuselage structure can protect F1000 Pro from the rain and dust, and also protect other load equipments like flight control and battery. The arm of F1000 Pro is pluggable, both the cover and arms can be locked with the quick locking hooks. Due to its detachable arm the F1000 Pro is also easy to carry.
F1000 Pro is equipped with high efficient power system including T-Motor U10 motor, 2880T propeller and T-Motor Flame 60A ESC to ensure long flight time. Battery that we can use is two 6S 12500mah. And you also could use T-Motor U8 motor and chose only one 6S 12500mah battery. As for the flight control, both the DJI A3 and DJI N3 are available. If you use lightbridge 2, you also could use DJI GS Pro to control or plan automatic flights. F1000 Pro can be applied in many fields like aerial photography, emergency rescue, reconnaissance mission, power line inspection, remote sensing survey and mapping etc.
Specifications:
- Wheelbase:1065mm
- Weight: 1900g(frame only)
- Max payload: 3kg
- Flight time: >60min

Features:
- Carbon fiber and glass fiber(only cover) material
- Light-weight, durable and stable
- Rainrproof
- Long flight time
- Detachable arm, easily portable
Options:
- Motor: T-MOTOR U10 KV100/T-MOTOR U8/T-MOTOR U8 II/T-MOTORU8 Lite
- ESC: T-MOTOR Flame 60A ESC
- Propeller: Foxtech Supreme C/F Propeller 2880T
- Battery: Foxtech 6S 12500mAh Li-ion Battery
- Flight Controller: DJI A3/DJI N3
- Remote Controller: DJI Lightbridge 2/Futaba 14SG Radio Controller
- Adapter: X3/X5 Adapter Plate
Your Purchase Includes:
- 1x F1000 Pro Frame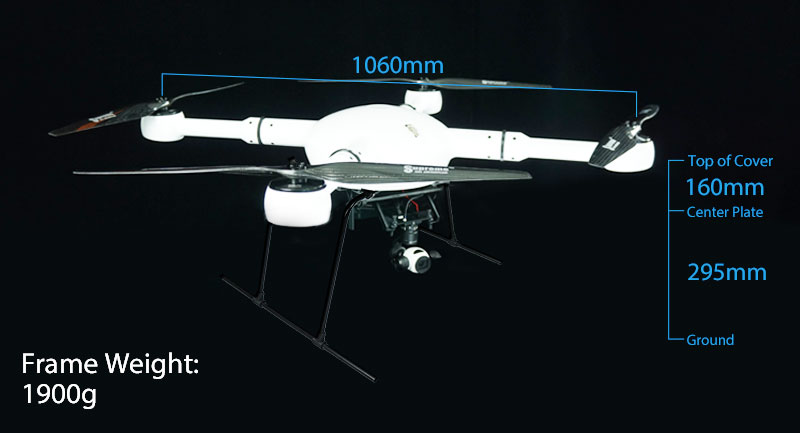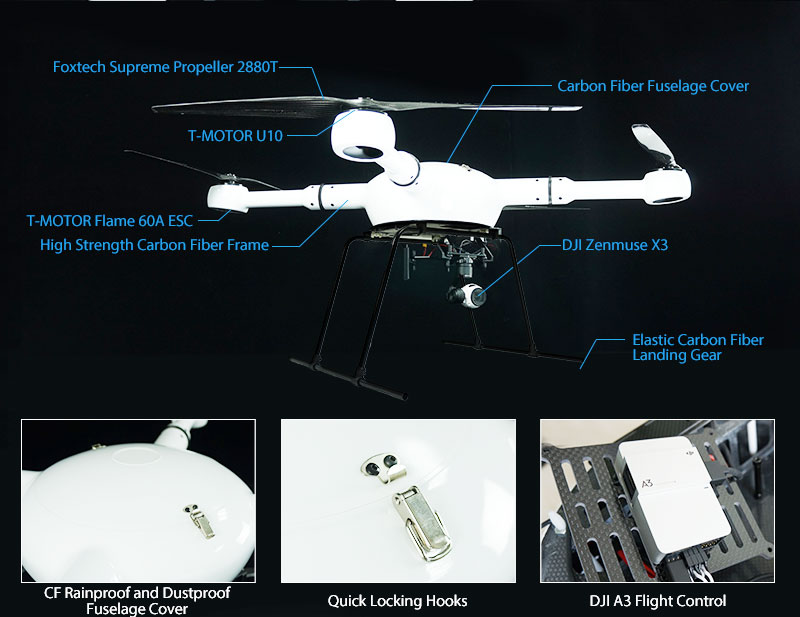 Notice: the appointed delivery methods is EMS only, please contact:[email protected] or customer online service about the freight difference with other delivery methods.