Foxtech Screamer 250 V1.1 is released!
Based on Screamer 250 Version I's success, the Screamer 250 V1.1 is improved to meet higher requirements. Removing Version I CF board, the new thicker CF board helps with frame strenghth and stablization; the improvement of the power distributor makes it more convenient and simple to install the XT60 plug; the mounting position of the camera is also improved, the camera is mounting on the down plate of the airframe; also adding a new fixing plate for the transmitter antenna, which makes the antenna more steady.
Foxtech Screamer 250 V1.1 Pentacopter is a FPV Racing drone to provide an ultimate and incomparable FPV experience.It mainly features in the rear thruster equipped with Foxtech 2208 kv2500 V2 motor and 5" propeller, which can boost the speed over130km/h and makes aerobatic completely different than the ordinary racing copters in the market. With the rear thruster on, the high pitch howling would definitely WOW your club mates at the flying field!
The airframe is made of super tough carbon fiber material,which ensures light weight and high intensity. It is a vibration and jello free platform to give excellent HD video results and steady FPV real-time wireless reception,which is achieved by a super rigid structure and high quality antivibration mounts.
Screamer 250 V1.1 Pentacopter is supplied with a special power distribution giving 5V output to the FPV mini camera.The thoughtful motor cover can protect the motor safe from crash or violent landing. The aerodynamic profile allows the airframe to achieve greater acceleration and forward flight speeds that considerably faster than most other FPV racing drones.
Foxtech Screamer 250 V1.1 FPV Racing Pentacopter is suitable for all hobbyists from beginners whom intend to only fly LOS to the most experienced FPV racers that value speed and durability for high speed FPV action!
Features:
- >130km/h speed with innovative Rear Thruster
The innovative rear thruster is a stunning feature for instant speedup, especially for sharp conerring; just a quick switch/knob trigger to gain more than 5 times acceleration reaction than other racers.
The rear thruster allows the pilot keeps the copter in track easily while doing aerobatic stunts.It also makes the pilot care free at low-attitude flight specially with high speed to fly through a FPV gate or other track obstacles, because the Screamer 250 V1.1 can fly levelly at high speed acceleration while the common racing drones have to tilt downward in the front to speed up with high risk colliding onto the ground.
-Ready to fly kit,pre-assemblyed
-Integrated FPV system with 600TVL FPV mini camera and 5.8G 600mw 40CH video transmitter with race band.
-Aerodynamic profile, providing greater forward flight speed
-Dedicated motor protection
-Powerful and high efficiency power system
-LED lights in the rear for easy orientation (optional)
-3K full carbon fiber,light weight, rigid and durable
-SP F3 or NAZE32 6Dof flight Controller
For professional users,we suggest F3 flight control since the manual mode responds a lot faster than NAZE32. However, it doesn't have good response with attitude mode.For advanced users, we suggest NAZE32 flight control since it has good control in both attitude and manual mode, not as aggressive as F3 in manual mode,but it's still good for normal flying.
P.S. The rear booster is not feasible at takeoff and landing.
Specifications:
-Wheel base :250mm
-Materials: 3K Pure carbon fiber
-Frame weight:280g
-Flying weight: 630g (4S 1500mah HV lipo battery included)
-Flight time: 3-5 mins(Flight time reduces by using rear motor)
Package includes:
- 1 x Foxtech Screamer 250 Pentacopter Frame
- 1 x Naze32 6Dof /SP F3 flight controller
- 4 x Foxtech 2205 kv2300 V2 motor
- 4 x Foxtech BLHeli_S Dshot 20A ESC
- 2 x pairs 5045 3-blade propeller
- 1 x Foxtech 2208 kv2500 V2 motor (Rear Booster)
- 1 x Foxtech BLHeli_S Dshot 30A ESC (Rear Booster)
- 1 x 5045 2-blade propeller (Rear Booster)
- 1 x FH10R FPV Mini Camera
- 1 x FT958 5.8G 600mw 40CH AV Transmitter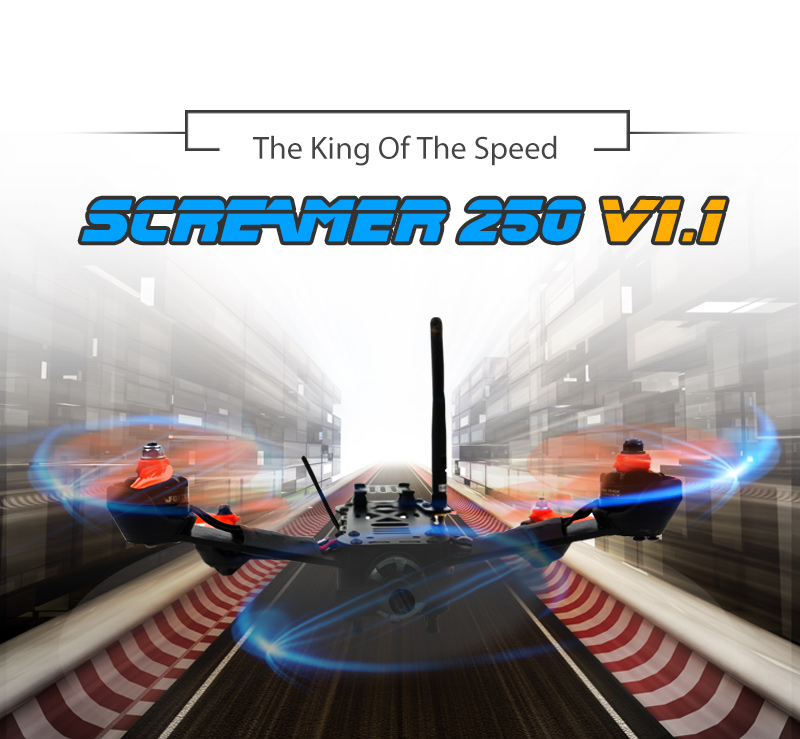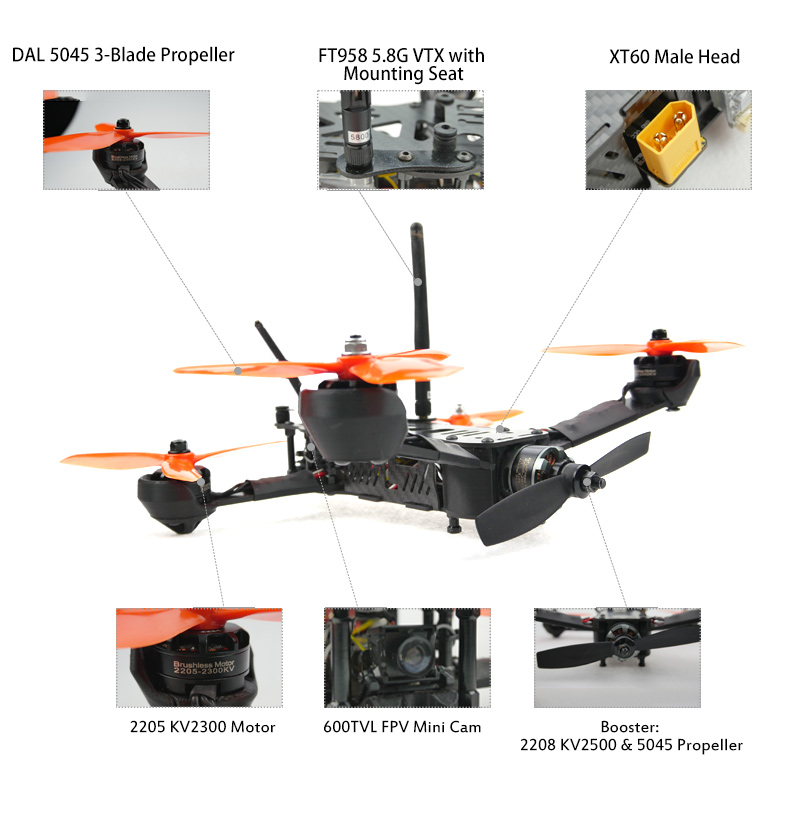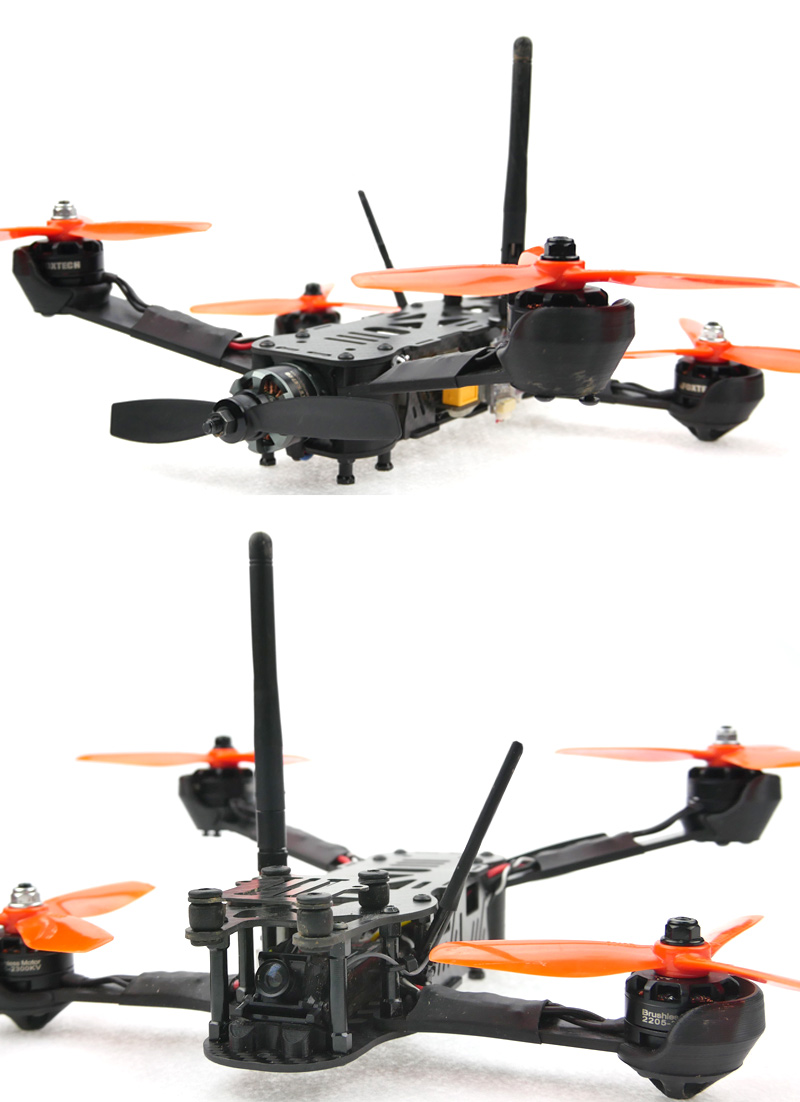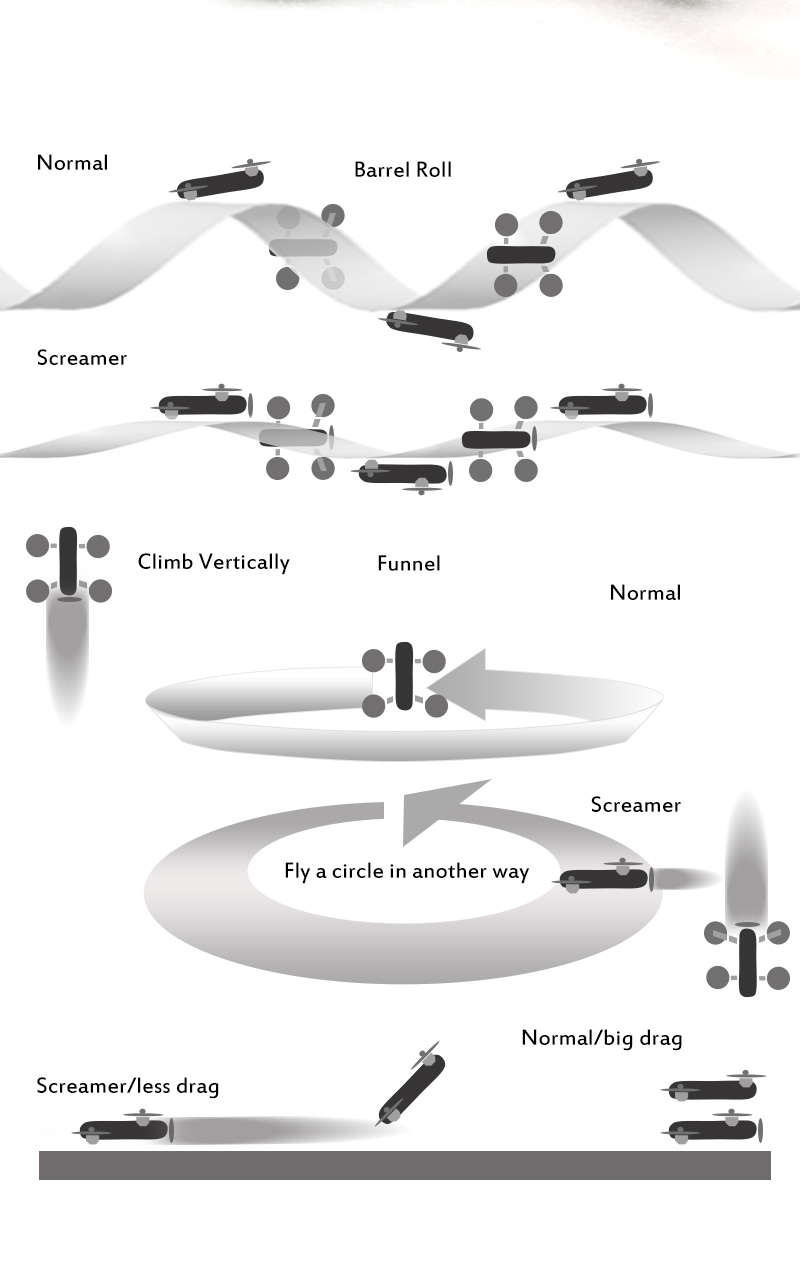 Optionals
Battery:
HV-Lipo 4s 1500mAh Battery
Radio Controller:
Taranis X9D Plus Radio Controller
RadioLink AT9 2.4GHz 9CH Remote Controller
Futaba 8J Raido Controller
Monitor/Goggles:
SKY 708 7" 40CH FPV Monitor Diversity Receiver
SKYZONE 3D FPV Goggles V3 5.8G 40CH with Raceband
SKYZONE FPV Goggles V2 5.8G 40CH with Raceband
SJ-V01 5.8G 40CH FPV Goggles
Antenna:
5.8G Clover Antenna TX RX
LED Board
LED Board with 5V Buzzer for Racing Drone