Welcome to join Facebook GAIA Hybrid UAV group: https://www.facebook.com/groups/145323256036600/
Note: The default shipping method of GAIA 160HY hybrid drone is Fedex.
FOXTECH GAIA 160HY-Hybrid drone is a long flight time hexacopter equipped with gasoline-electric hybrid power system. GAIA 160HY-Hybrid is made of carbon fiber material so it is very sturdy. The arms are plugable, which saves more space and makes this drone convenient for storage and transportation. FOXTECH GAIA 160-Hybrid is also equipped with a durable landing gear to ensure a stable landing.
FOXTECH GAIA 160HY-Hybrid hexacopter is equipped with high efficient power system that ensures very big loading capacity and a very stable flight performance. GAIA 160HY has 6.5kg lifting capacity on each arm, so GAIA 160HY can still fly even with one motor failure. The highlight is that Foxtech GAIA 160HY-Hybrid hexacopter has an onboard 2000w generator that offers plenty of power to the 6 very high efficiency motors to ensure a long flight time. Max flight time is about 3 hours. An internal combustion engine consumes gasoline and spins a generator to ensure a 48V output. Besides this, a 12S lipo battery package is also installed onboard to offer emergency back-up power for quick climbing and quick maneuvering.
GAIA 160HY-Hybrid drone is also installed with redundancy flight controllers, GPS and a full range of optional equipments like RTK GPS, 20km datalink, parachute, secondary radio control and more to make this drone very reliable and very safe.
FOXTECH GAIA 160HY-Hybrid drone is a high-quality flying platform. A longer flight time coupled with good stability opens a wide range of new commercial possibilities for businesses such as inspection of offshore platforms, search and rescue, power line inspection and survey etc.


GAIA Advantages:
- Gaia 160 has good power redundancy. Hexa-copter can still fly or land in case one propeller or motor is gone.
- Gaia 160 's main body is made of full carbon fiber featuring light weight and high strength. We flew Gaia 160 in extreme weather conditions, e.g, -20℃ low temperature, +40℃ high temperature, heavy rain, fog etc.
- Gaia 160 uses cutting edge technologies on the power system, its motors, ESCs and propellers are all optimized and tested for long duration and long range flight.
- Gaia 160 's generator module is isolated from other electric equipments giving advantages for maintenance, working stability and safety.
- Gaia 160 uses flight controllers with triple redundancy. Both A3 Pro and Pixhawk Cube Orange are proved reliable and widely used on professional drones.
- All Plugs used on Gaia 160 are anti-spark type, all wires are optimized for long duration flight.
- Gaia 160 is rain-proof, it's possible to fly in mid moderate rain.
- Gaia 160 has more than 100 and increasing number of happy users around the world since it's released in August 2017.
Assembly and Fly Test Package Includes:
1. Assemble all parts together includes but not limited to engine, frame, motor, esc, propeller, wiring, soldering.
2. Flight controller tuning includes parameter setting, GPS mounting and flight controller mounting and overall wiring.
3. Test fly: Foxtech technicians will take the GAIA 160HY and arrange a 1 hour flight to test the stability of engine, power system and fuel supply to ensure the whole system is safe and reliable to fly.

Specifications:
Wheelbase: 1600mm
No payload weight: 15.5kg(no fuel)
Max take-off Weight: 21kg
Max speed: 15m/s
Flight time: 3 hours(4L fuel)
Voltage: 48V
Generator output: 1.8kw(continuous), 2kw(max)
Generator weight: 4kg
Fuel tank: 7L
Fuel consumption: 1.5L/H(Max)
Your Purchase Includes:
RTF Combo:
1x GAIA 160HY Frame
1x 2000W Generator
1x 7L Fuel Tank
1x Generator Control Unit
6x Motor
3x Diamond 2995 Propeller
6x ESC
1x Pixhawk Cube Orange Standard Set with Here 2 GNSS
1x DA16S+ Radio Controller
2x Foxtech 6S 5000mAh Battery
1x Plug/Cable/Wires etc
1x Assembly and Fly Test Package
1x Tools(fuel mixer, generator starter with 3s lipo etc.)
1x NOVA-2000 Generator Maintenance Kit
1x PWM to RSSI Signal Converter
1x Liquid Level Sensor
1x Hand pump
1x Propeller (for free)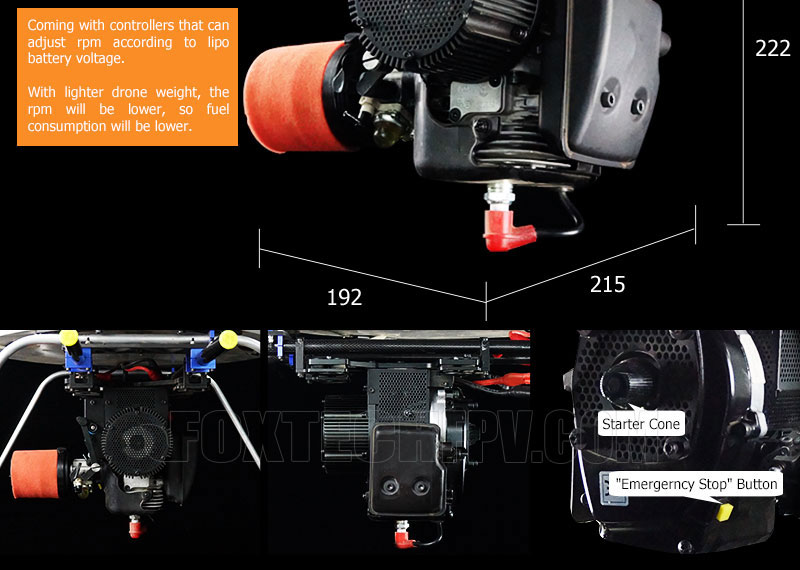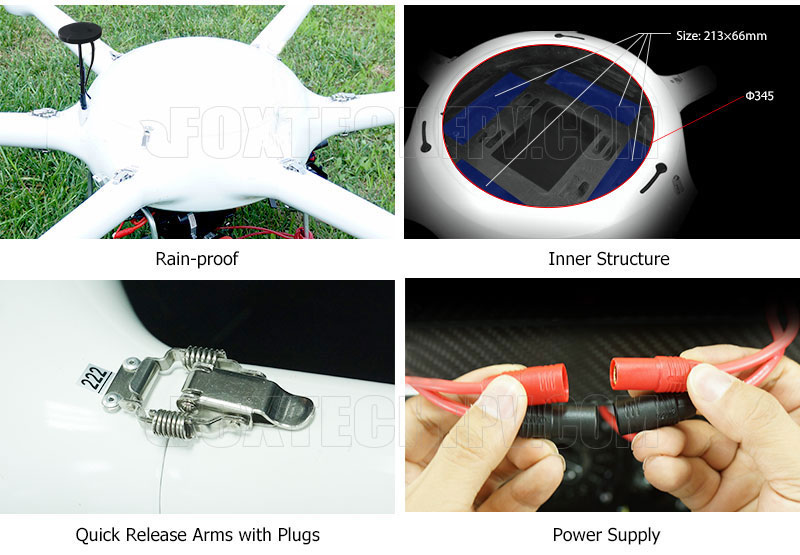 Cube Orange