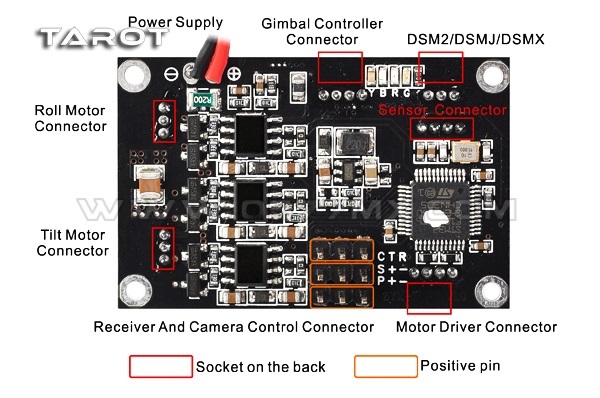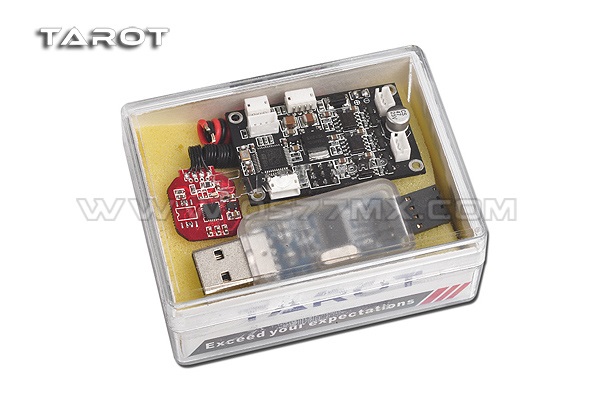 Product Description:
For GOPRO brushless pan rack assembly TL68A08 or other similar products, used in photographic film and entertainment, advertising and many other areas of model aircraft photography.
Product Characteristics:
Auxiliary output video supports GOPRO Hero3
Support the supply voltage polarity protection and voltage compensation
Support the motor drive end short-circuit protection
Support for custom initial pitch angle
Sensitivity parameter adjustment support and software 3D pose show
Supports joystick rate mode and position mode
Support Receiver: conventional receiver, S-BUS receiver, DSM2/DSMJ/DSMX receiver
Support remote control device: PPM/PCM/2.4G
Working Voltage: DC 7.4V ~ 14.8V (Recommended 12V, three lithium battery)
Working current: 200mA-500mA (power supply voltage and the motor related)
Working temperature: -15 ℃ ~ 65 ℃
Processor: Dual 32-bit high-speed ARM core processor
Sensor: Three rotor MEMS gyroscope rotor MEMS accelerometers and the three
Maximum angular rate: 2000 °/ sec
Maximum acceleration: 16g
Control frequency: 2000Hz
Motor drive frequency: 20KHz (no noise smoothing drive)
Control accuracy: 0.1 °
Control angle range: -45 °~ 45 ° (roll), -135 °~ 90 °(tilt)
Attitude solver algorithms: PTZ dedicated brushless motor decoupled EKF algorithm
Applicable shooting equipment: GOPRO Hero3
Product features and interfaces:
Power Interface: DC 7.4V ~ 14.8V (Recommended 12V, three lithium battery)
Head Master Scheduling Interface: USB to serial module connected to the computer, the main controller parameter adjustment for PTZ and status monitoring.
Motor drive parameter adjustment Interface: USB to serial module connected to the computer, is used to adjust the motor drive module motor poles
And power, and voltage and current monitoring.
Receiver Photos Servo Output Interface:
R: Normal receiver roll input
T: Normal receiver input pitch
C: Normal mode receiver input (joystick angle mode or speed mode)
S: S-BUS receiver channel or camera input channels
P: photos servo output (can be connected to the infrared camera module)
+: 5V output, -: Power Ground.
Satellite interface: for connecting satellite receiver.
Roll and pitch motors motor interface: for connecting the motor.
Sensor Interface: for connection of sensors.
Specifications:
ZYX3 rotor gyro USB cable group ZYX07 x1
GOPRO two-axis gyro sensor head x1
GOPRO two-axis gyro head master controller x1
Φ4.5x4.5mm insulated pillar x4
2x3mm round head Phillips screws x8