GAIA 160AG agriculture spraying drone is a high performance aircraft capable of offering comprehensive solutions for agricultural care. GAIA 160AG is made of carbon fiber material which features light weight and high strength, the top cover of the fuselage and the tank are made of glass fiber. The frame weight if about 7.25kg. The arm of GAIA160 series hexacopter is pluggable, both the cover and arms can be locked with the quick locking hooks.

The big fuselage of GAIA 160AG makes it possible to install many equipments eg. battery, Gps, flight control system. And all the wires are built into the fuselage. The closed fuselage structure can protect the GAIA 160AG hexacopter from the rain and dust, and also protect other load equipments.
This GAIA 160AG is equipped with a 2.8 meter long tube with four nozzles. The new water-saving nozzles could save the pesticide and improve the efficiency of spraying at the same time. This GAIA 160AG has a grid pesticide container which can prevent the liquids sloshing in the flight. The capacity of pesticide tank is 22.5L, so do not need to add pesticide frequently. The propeller vortex can help the GAIA 160AG evenly spraying the pesticide on the front and back of the plant leaves.
The GAIA 160AG is equipped with powerful motor and high efficiency 30 inch folding propeller, the max lift of one rotor can reach 13kg. The total thrust is over 70kg. The GAIA 160AG supports both manual and automatic flight, it can achieve automatic spraying by the planned flight paths. The motor and ESC use the water-resistant design, and can be applied in different weather conditions. Because of the large liquids load the efficiency of GAIA 160AG is twice as much as other aircraft with 10L payload.
Equipped with PALADIN flight controller set, GAIA 160AG can take off and land easily with one button. Adopting reliable algorithm, PALADIN flight controller ensures stable flight attitude of the drone. The microwave radar module can provide high-precision altitude information, so that GAIA 160AG will fly above the crops at a constant spraying distance to ensure uniformity of the pesticide spraying. GAIA 160AG is able to spray precisely by using flowmeter. The radio controller is DA16S+ with datalink and radiolink built inside, reaching up to 8km transmission distance. All these make pesticide spraying work more efficiently and safely.
Version Upgrade: The legs of GAIA 160AG are lengthened to provide more space for installation of various spraying equipment.
Specifications:
Version: Agricultural Aircraft
Wheelbase:1620mm
Max Take-off Weight: 46.5kg
No-load Weight: 24kg
Load pesticides: 22.5L
Flying time: 18min(4x 6s 16000mah)
The altitude of spraying: 1-5m
Spraying swath: >5m
Spraying speed: 2-6m/s
Operation efficiency: 10ha/h(max)
Features:
- Closed fuselage structure,rain resistance,large capacity
- High strength, durable
- Convenient operation,easy maintenance
- Powerful and high efficiency power system
- Heavy load, more stable flight
Your Purchase Includes:
PALADIN/DA16S+ Combo:
-1 x GAIA 160AG hexacopter frame
-1 x PALADIN Flight Controller Set
-1 x 2.8 meter long carbon tube
-1 x Pump and controller
-1 x Water tube
-4 x Nozzles
-6 x T-MOTOR P80 III Pin KV100
-6 x T-MOTOR FLAME 80A HV V2.0
-3 x 3010 Carbon Fiber Propeller
-1 x EFT V3 High Current Power Distribution Board
-1 x Plug/Cable/Wires/Shrink Tubing etc
-1 x Assembling, tuned and Flying Test Service
Options:
- Remote Controller: DA16+ 16-Channel Radio Controller/Futaba 14SG Radio Controller
- Propeller: 3010 Carbon Fiber Propeller/Foxtech Supreme C/F 3010T propeller/Foxtech Supreme C/F 3010F propeller
- Battery: Foxtech 6s 16000mah lipo battery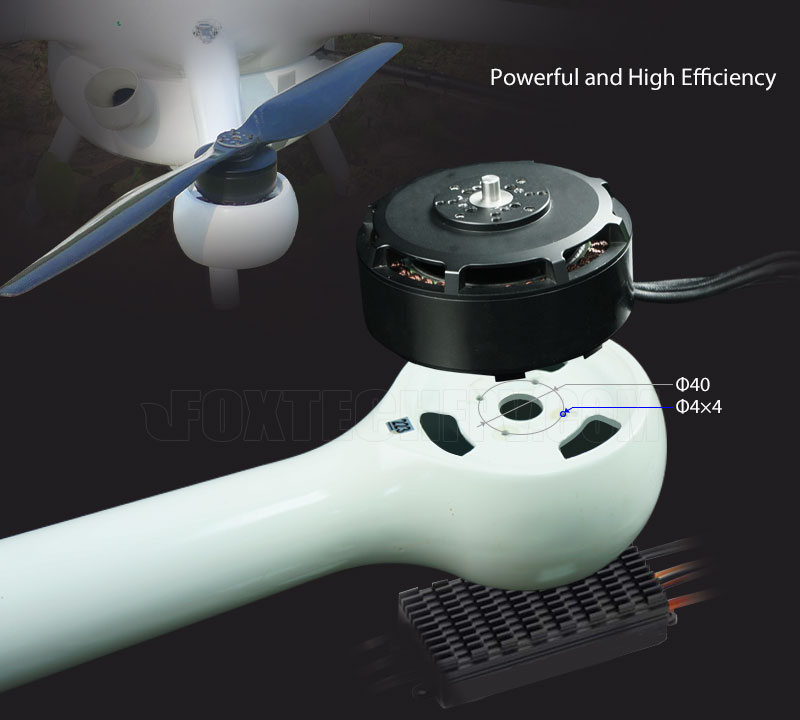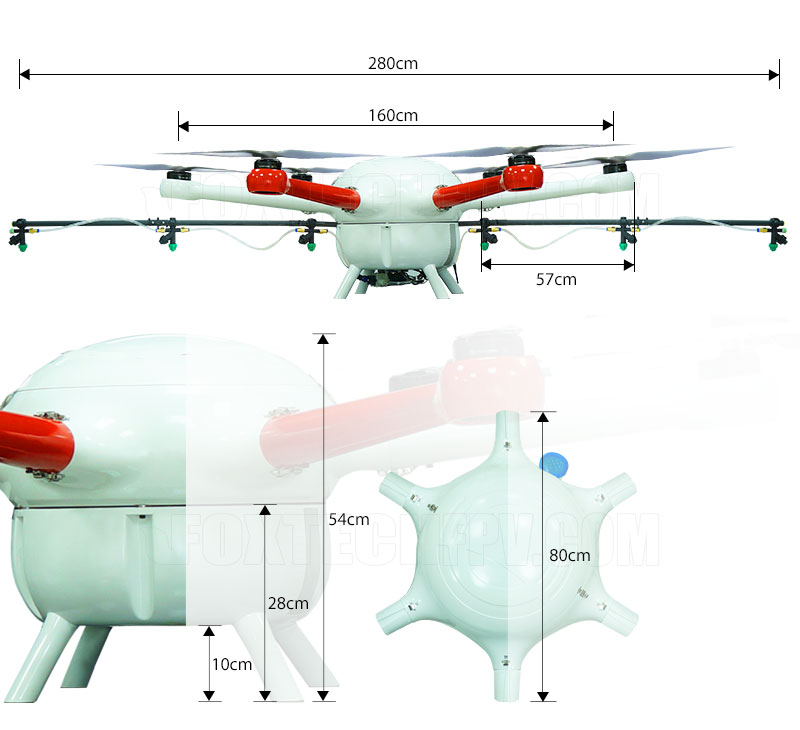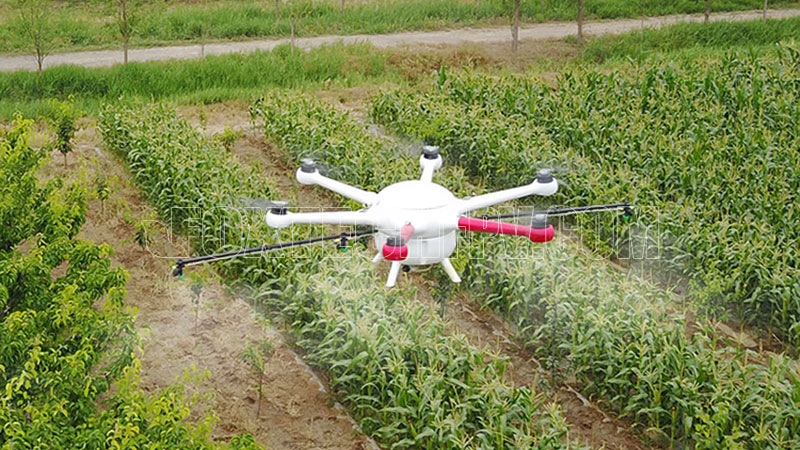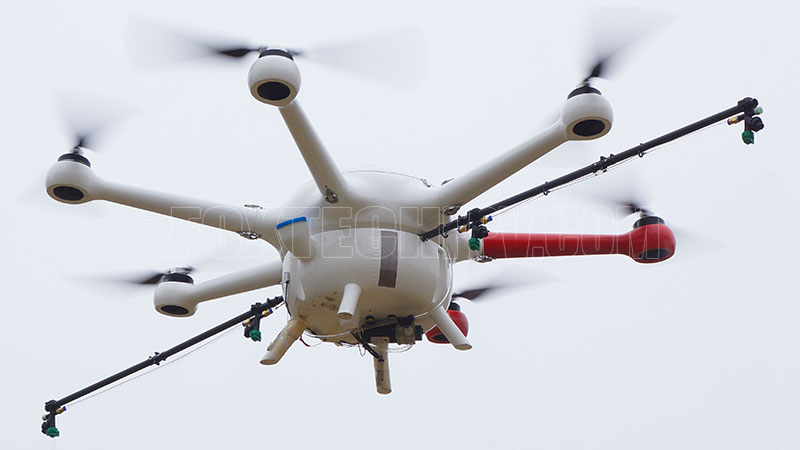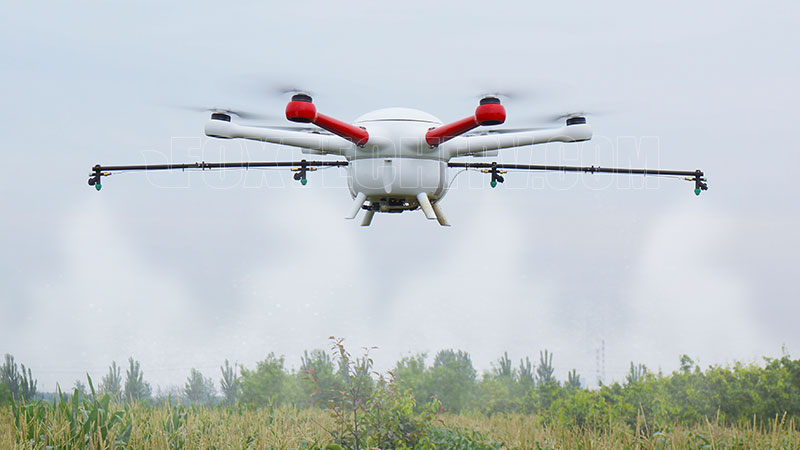 Notice: the appointed delivery methods is Fedex only, please contact:[email protected] or customer online service about the freight difference with other delivery methods.