The Clouds is a big but light weight EPO plane featuring large size, light weight and heavy load. The specially made EPO material also offers it a strong structure that could sustain a few crashes. The dual engines design gives this plane a lot of redundancy power and great efficiency for long fly time and high speed at the same time. The UAV shape gives the Clouds a speed range up to 50-80km, but the power consumption is very low at the same time. The huge fuselage makes it possible to load many equipment eg. Gps, gimbal, camera, Autopilot, parachute. The Clouds is an ideal platform for long fly time, high altitude and maybe high flying speed and the same time. Since the engines are arranged on the front edges of the wings, so you can easily launch it with your hands or using rubber bands(I prefer the latter), and then land it with either gliding touch down or parachute. With the help of FPV equipments or UAV autopilot , the Clouds can go over 80 km and back thanks to its maximum 3 hours fly time. Battery that we can use on the Clouds is up tp 4S 22000mah or 6S 16000mah to guarantee the long fly time and long fly range. The wings and tails are also quick detaching type that makes the transportation much easier.
Specification:
Material:EPO
Wingspan:1880mm
Length:960mm
Height:260mm
Wingarea:53d㎡
Wing assamble:detachble
V Tail assemble:detachble
Load:600-1200g (no battery)
Lauching:by hand or bungee launching
MAX altitude:6000m
Cruise speed:50-80km/h
Flying time:1.5-3h
Wing resistance:LV 6
Camera load:SONYα7 R or smaller thanα7 R
Landing:parechute or slip landing

Recommend Drive System:
Motor:2814 kv1000
ESC:40A*2
Servo:9g*5
Propeller:10*6
Battery:4s 10000-22000mah
6s 10000-16000mah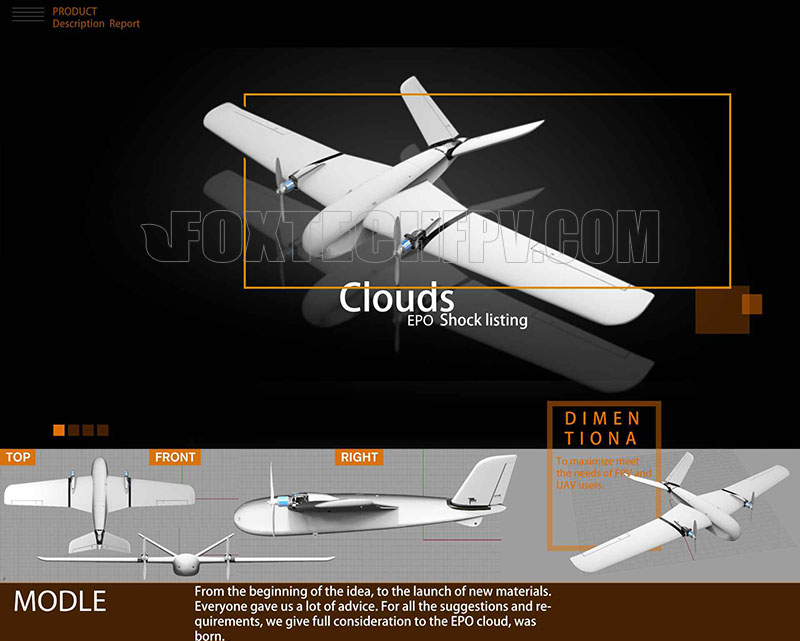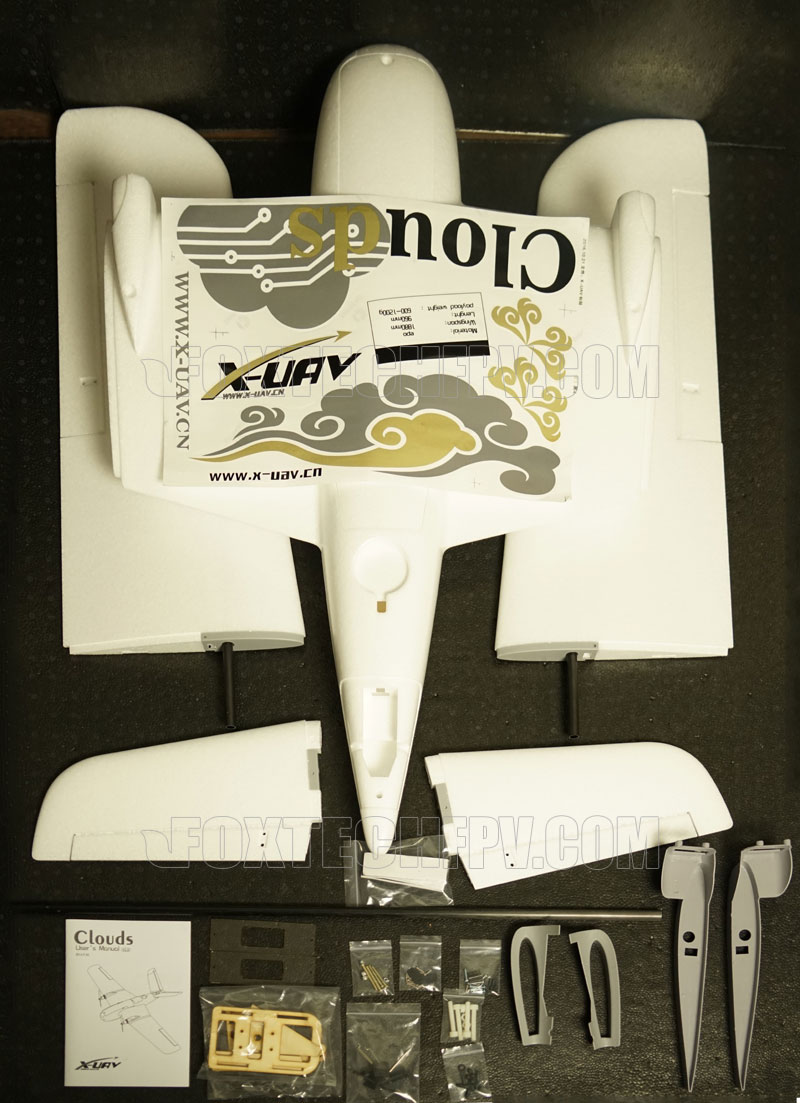 Your Purchase Includes:
-1*X-UAV Clouds 1880mm Wingspan EPO Aircraft KIT
Notice: The appointed delivery method is EMS only.