The FrSky ACCST Taranis Q X7 radio transmitter is released. It is a lower cost and simplified version transmitter , and operates on OpenTX just as the Taranis does. The Q X7 features a modern new and sleek look along with an easy to navigate menu and intuitive scroll wheel and button controls. This 16 channel radio has smooth ball bearing gimbals and is loaded with six switches and two knobs. The MicroSD card slot offers unlimited model memory options, it also has a USB port for upgrades and to connect to a PC for adjusting settings. Both sticks come with spring loaded return to center sticks, this makes it extremely easy to change the mode 1 to mode 2. One of the best features of the Taranis Q X7 is its full telemetry capability, as well as RSSI signal strength feedback. The FrSky X7 also features Receiver Match, Real-Time Flight Data Logging and Super Low Latency for precision flying.
Specifications:
Operating Voltage Range: 6~15V (2S, 3S Lipos are acceptable)
Operating Current: 210mA maximum (both RF module and backlit are on)
Number of Channels: 16 channels
Operating Temperature: -10~45℃
Backlight LCD Screen: 128*64 outdoor readable LCD
Model Memories: 60(extendable by SD card)
Compatibility: FrSky X series, D series and V8-II series receivers (plus other receivers if an external module is used)
Features:
Quad Ball Bearing Gimbals
Audio Speech Outputs (values, alarms, settings, etc.)
Real-time Flight Data Logging
Receiver Match
Receiver Signal Strength Indicator (RSSI) Alerts
Vibration Alerts
Super Low Latency
Smart Port Supported
Model files are compatible with TARANIS X9D/X9D Plus/X9E.
Open source firmware OpenTx installed.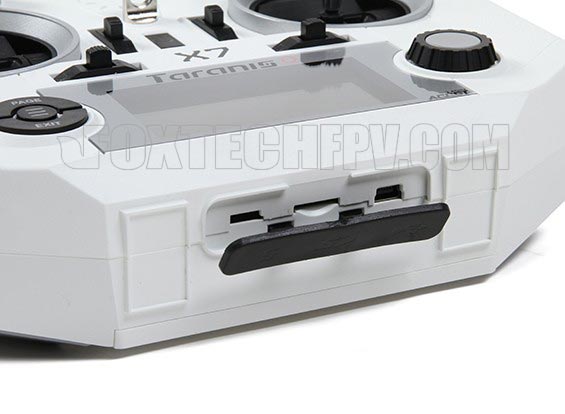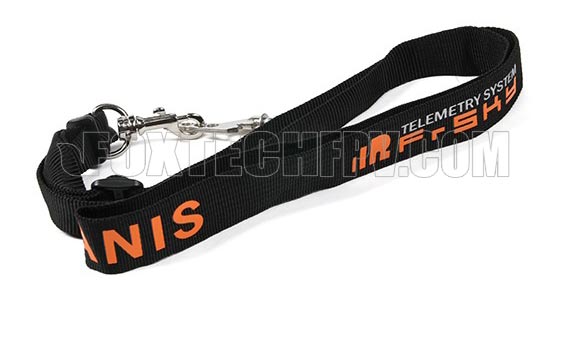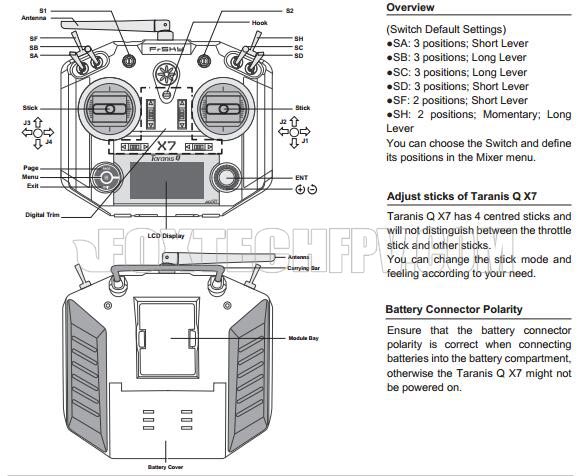 Your Purchase Includes:
1x Taranis Q X7 transmitter(no battery)
1x Manual
1x Neck strap