Based on the former V1 to V3 Goggles,Skyzone released the latest SKY02S V+ 3D Goggles.The SKY02S V+ is a 5.8G 48CH 3D FPV Goggles integrated with a 5.8G diversity receiving module,two antenna ports and two independently-working display modules.To work with the supplied SCAM302 3D camera and STX202 dual transmitter,it supplies the pilot an extraordinary realistic 3D feeling to FPV. SKY02S V+ remains all the previous features, such as 3D/2D mode,built-in DVR with playback,head tracking,built-in front camera etc,its new features highlight in HDMI-IN, channel auto searching, new eyeshade with headband for cozier wearing. What's more, comparing to the old version 3D camera and dual transmitter, the new SCAM302 3D camera (12g) and STX202 dual transmitter (14g) come much smaller size and lighter weight, which make the SKY02S V+ a perfect option to FPV racing.
P.S. SCAM302 3D camera and STX202 dual transmitter are not included in the Goggles Only option!
Features:
-3D mode (need to match with 3D camera and dual transmitters)
-2D diversity mode
-HDMI in
-Channel auto searching
-Dedicated eyeshade with headband for more comfortable wearing
-Screen OSD
-Built-in DVR with playback
-Built-in 48CH 5.8G Diversity receiver with raceband, compatible with most FPV 5.8G transmitters on the market (Fatshark,DJI,Walkra,Boscam etc)
-Built-in self-calibrating head tracking (gyro, inertial and compass)
-Built in dual 854X480(WVGA) monitors, 1,229,760 color sub-pixels
-Built-in external camera for surrounding view (640X480,VGA)
-AV in/ AV out/ Earphone socket (with volume control)
-Adjustable interpupillary and diopter for your eyes
-Adjustable brightness and contrast
-Complete plug and play kit
SKY02S V+ User Manual Download
Package Includes:
-1*Skyzon SKY02S V+ 3D FPV Goggle
-1*Goggle Carry Case
-2*5.8G 2dBi Antenna for Transmitter
-1*Futaba Data Cable
-1*JR Data Cable
-1*WFLY Data Cable
-1*AV Cable
-1*Power Cable
-1*Eyecup Frame
-1*Headband
-2*Eyecup Foam Pads
(The accessories below are supplied in Goggles with cam & vtx option, but not included in the Goggles only option)
-1*SKY302 3D Camera
-1*STX202 Transmitter
-1*SKYDC5V Regulator
-2*5.8G 2dBi White Antenna for Goggles
-1*2P TX Power Cable
-1*5P Camera Cable
-1*3P TX Remote Control Cable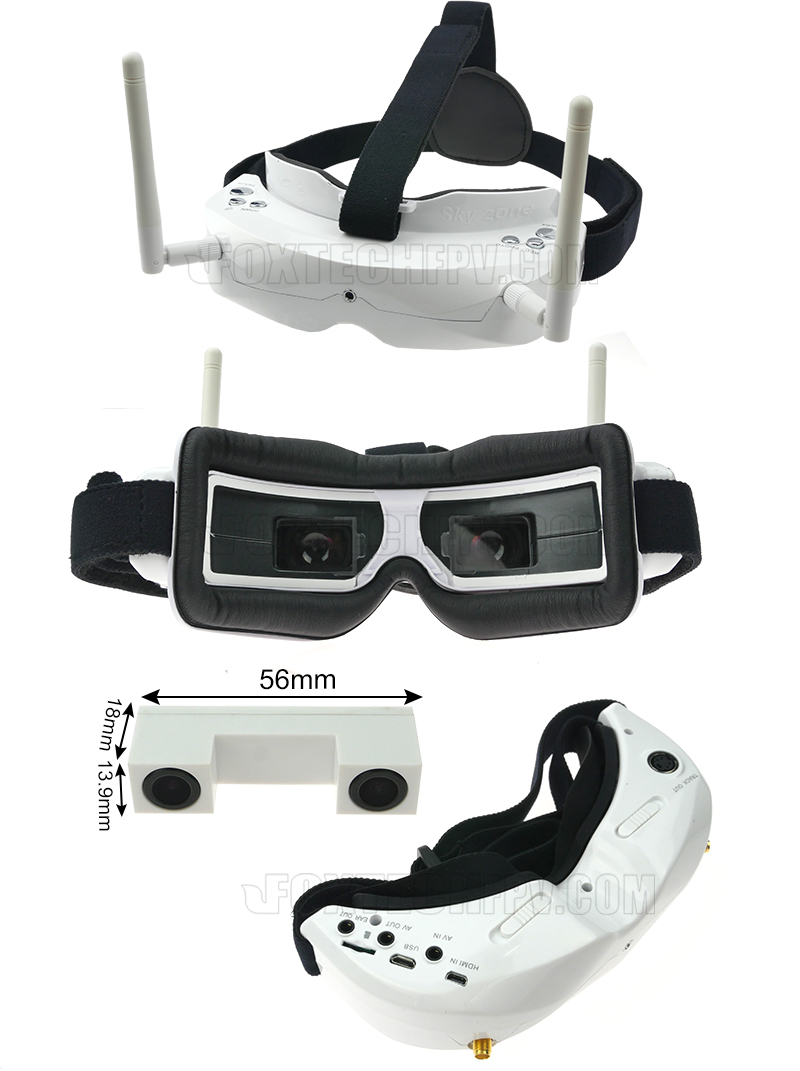 P.S Battery not included!