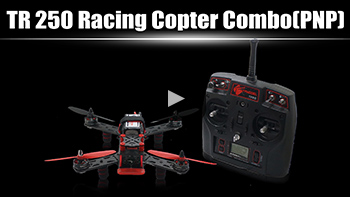 Notice: the appointed delivery method is DHL only.
TR250 FPV Racing Quadcopter combo is plug and play version which saves lots of assembling time.
The frame body is made of carbon fiber, quite lightweight. It is integrated with many cool components, like power distributor board, ESC mounting plate and CC3D special mounting area. Power distributor board can draw power from main battery to ESCs, Radio receiver and other electronic units directly. The ESC mounting plate simplifies cabling, CC3D dampers reduce vibration, the whole body is very neat and clean.
The power system consists of 2204 KV2300 motor, 5045 propeller and Hobbywing 15A ESC. It is enough to ensure the speedy flight.
The LED light, two green in the front, two red at back is for nighttime flight, and also the LED light can be controlled by radio.
The foam landing kits protect the frame and other components when hitting the ground.
The radio has two modes, modeI and ModeII can be switched quickly. The retracted antenna and foldable handle keep the radio easy to carry. The D.S.C. socket is trainer port which allows simulation flight. The LCD screen displays the battery level and setting figures.
The TR250 PNP combo is the best choice for FPV racing field.
Specification:
Material: Carbon Fiber
Wheelbase: 250mm
Radio
Channel: 8CH
Frequency: 2.4G
Voltage: 3.7-8.4V
Current: 200mA
Receiver
Channel: 6CH (Support PPM)
Frequency: 2.4G
Weight: 6.5g
Size: 34.2*18.4* 
Purchase Includes:
-1*TR250 CF Frame
-4*2204 KV2300 Motor
-4*Hobbywing 15A ESC
-2*Pair 5045 Propeller
-1*CC3D Flight Controller
-1*6CH Receiver
-1*Radio
-1*3s 1300mAh Battery
-1*B3 AC Charger