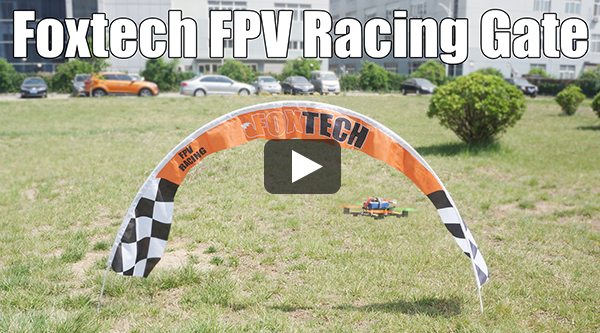 Foxtech FPV Racing Gate
Foxtech Racing Gate gives the user the ability to map their tracks out. With this simple design, the Foxtech Racing Gate can be set up in a few minutes that gives you the freedom to race anywhere.


---
Tarot 130 Racing Quadcopter PNP Combo

Tarot 130 FPV Racing Quadcopter PNP Combo includes Tarot 130 FPV racing quadcopter combo, Tarot 11.1V 35C 450mah Lipo Battery and FM800 2.4G Mini FASST Receiver.
---
DJI A3 Flight Controller

Combining ultimate reliability with accurate flight control, the brand-new A3 series of flight controllers is ideal for demanding industrial and cinematic applications where reliability and customization are essential.
---
Matrice 600

The Matrice 600 (M600) is DJI's new flying platform designed for professional aerial photography and industrial applications. It is built to closely integrate with a host of powerful DJI technologies, including the A3 flight controller, Lightbridge 2 transmission system, Intelligent Batteries and Battery Management system, for maximum performance and quick setup.
---
DJI Zenmuse X5R

Get ready to experience the wonder of RAW. The Zenmuse X5R is the world's first Micro Four Thirds aerial camera capable of recording lossless 4K videos in RAW. With a framerate of up to 30fps and 1.7Gbps average bitrate (2.4Gbps maximum bitrate), the X5R empowersyou to capture breathtaking professional-level footage every time. Packed with a powerful MFT sensor, the camera also takes 16MP imageswith stunning details, while the integrated 3-axis stabilization gimbal keeps the camera level. Finally, an aerial camera that's truly fit forthe professionals.
---