Check out these 2 new functions of Foxtechfpv and you will fall in love with our new website!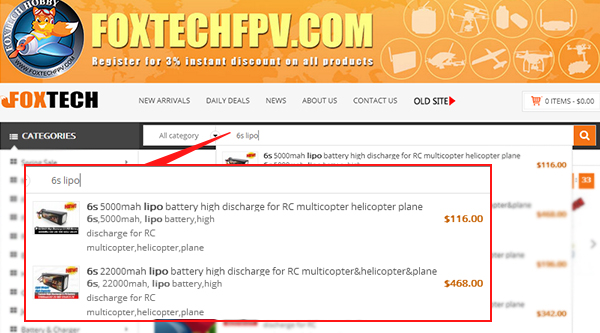 1. Smart search
Input the keyword of the product you want in the search field and a search dropdown list of related products will show up in a few seconds. This new function will make your shopping at Foxtech more convenient.
2. Featured Product Quick View
A series of Featured Product Quick View are now available on Foxtechfpv homepage: HOT SELLING, FPV EQUIPMENT, RACING DRONE and HOT BRANDS.
Click on the small icon and you can quikcly get the most popular products in the corresponding category.
---
Zhiyun Rider-M 3-Axis Handheld Gimbal for Gopro 3/3+/4

Foxtech XM series ESC is the upgraded version from Foxtech Multipal BLHeli series with advanced processor. It's more compatible with relatively big motors, making the motor rotation more smooth. Its maximum refresh frequency is up to 500Hz, making it compatible with all flight controllers. So it's the first choice for racing multicopters.
---
M600 6010 Power Combo(CW/CCW)

The M600 6010 power combo is tuned propulsion system specially engineered for industrial applications and aerial imagery. Using a combination of 6010 motors, 1240X ESCs, and 2170 propellers, the M600 6010 power combo is designed to carry payloads of 1800–2500g per axis, giving it the power to carry substantial add-ons and advanced imaging equipment.
---
Radiolink CB86-PLUS Battery Balance Charger

RadioLink's CB86-Plus charger can charge from 1S to 6S LiPo batteries, and has a charging current of 0.1A to 6As. It can cycle charge, parallel charge, or discharge your LiPo batteries with ease. RadioLink's CB86-Plus charger allows its user to charge up to 8 LiPo batteries at the same time.
---
Tarot 130 Racing Quadcopter PNP Combo

Tarot 130 FPV Racing Quadcopter PNP Combo includes Tarot 130 FPV racing quadcopter combo, Tarot 11.1V 35C 450mah Lipo Battery and FM800 2.4G Mini FASST Receiver.
---