---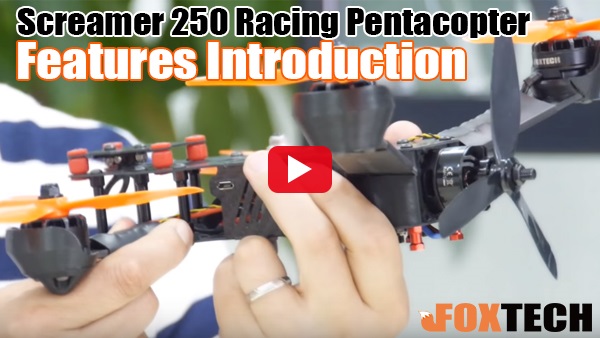 Foxtech has been trying to develop more capability out of various existing racing copters for FPV racing hobbyiests.After numerous tests and improvements, here finally comes out the Screamer 250 FPV Racing Pentacopter.
Foxtech Screamer 250 Pentacopter is a FPV Racing drone to provide an ultimate and incomparable FPV experience.It mainly features in the rear thruster equipped with Foxtech 2208 kv2500 motor and 5" propeller, which can boost the speed over130km/h and makes aerobatic completely different than the ordinary racing copters in the market. With the rear thruster on, the high pitch howling would definitely WOW your club mates at the flying field!
The airframe is made of super tough carbon fiber material,which ensures light weight and high intensity. It is a vibration and jello free platform to give excellent HD video results and steady FPV real-time wireless reception,which is achieved by a super rigid structure and high quality antivibration mounts.
Screamer 250 Pentacopter is supplied with a special power distribution giving 5V output to the FPV mini camera.The thoughtful motor cover can protect the motor safe from crash or violent landing. The aerodynamic profile allows the airframe to achieve greater acceleration and forward flight speeds that considerably faster than most other FPV racing drones.
Foxtech Screamer 250 FPV Racing Pentacopter is suitable for all hobbyists from beginners whom intend to only fly LOS to the most experienced FPV racers that value speed and durability for high speed FPV action!

---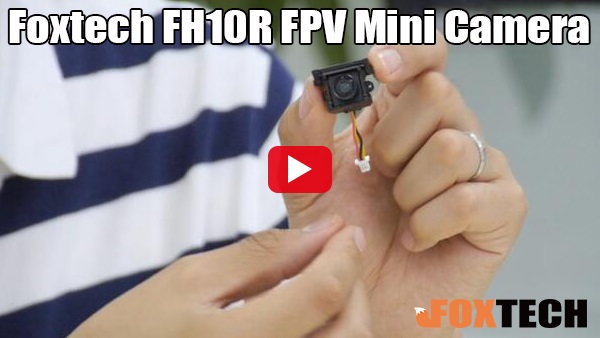 Foxtech FH10R is a mini FPV camera with 120 degree FOV and 520TVL resolution. FH10R is very small, weights only 4.0g, suitable to 120/130/200/250/300 etc racing copters, also good for aerial surveliance.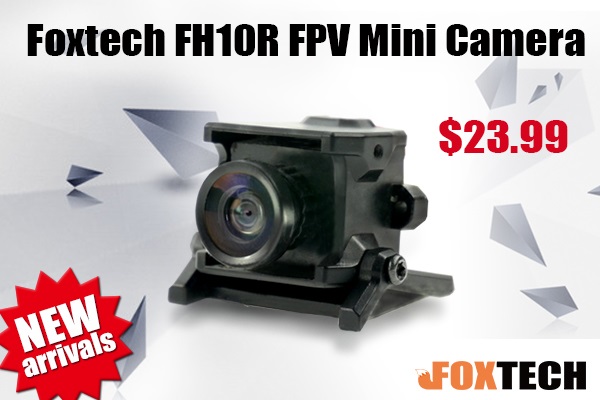 ---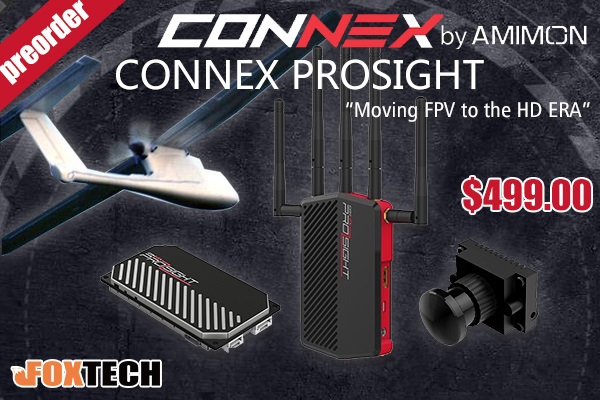 CONNEX™ ProSight is the missing link needed to usher in a new era in FPV racing. Plagued by analog systems' poor image quality, and connectivity issues in multi-pilot scenarios, the sport needs a breakthrough to take it to the next level.
CONNEX ProSight is just that, transforming FPV drones into a completely new kind of immersive experience for beginners and experts alike.
The Connex ProSight HD Vision Pack is a true game changer. It delivers unparalleled vision performance with delay-free wireless transmission. Its superior image quality combined with ease of installation, smooth configuration and improved multi-pilot flying experience that provide unmatched usability.
. 720p30 HD Camera, with high-Dynamic Range sensor, and 2.8mm lens
. Receiver Unit outputs standard 720p60 over HDMI for reducing motion blur
. Compatible with all popular HDMI based Goggles/monitor
. Digitally paired transmitter to receiver for crosstalk free flight
. Supported LOS range of 1000ft to 3000ft (300m to 1000m) varies with field conditions
. Advanced Frequency setup for multi-pilots: Automatic & manual modes, supporting 27 digital channels (FCC)
. System configuration via Bluetooth using Android/iOS app or through built-in OSD menu
. Advanced High-Definition spectator viewing mode
. Camera to HDMI receiver-out maximum latency of 26mS
---