---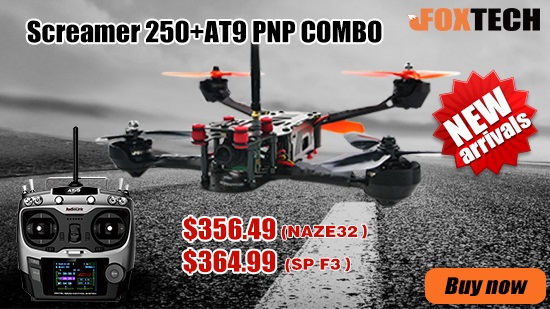 Foxtech Screamer 250 Pentacopter is a FPV Racing drone to provide an ultimate and incomparable FPV experience.It mainly features in the rear thruster equipped with Foxtech 2208 kv2500 motor and 5" propeller, which can boost the speed over130km/h and makes aerobatic completely different than the ordinary racing copters in the market. With the rear thruster on, the high pitch howling would definitely WOW your club mates at the flying field!
---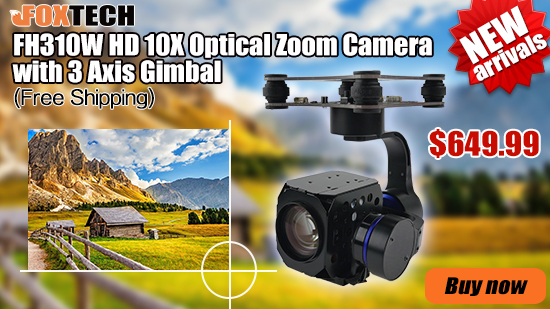 FH310W HD 10X Optical Zoom Camera with 3 Axis Gimbal is equiped with perfessional gimbal for photography and 1080P 10X Optical HD camera to fullfil fuction of monitering in day and night. 3 axis provide image much more stable and adjust spead of rolling to fit accuracy controlling of zoom. Match 10X 500 megapixel Zoom Camera with TF card, HDMI output (1280*720*60fps connect DH transmitter), AV output (connect simulation trasmitter), picture/record switch, day/night switch and IR mode. Those funtions make whole-day photograph much more easier.
---
The TS5828 packs 600mw of 5.8GHz power and 48 channels into a micro sized audio/video transmitter. It weighs just 15g completed with the wire harness and stock antenna, making it perfect for a wide range of aircraft and particularly for smaller 150-250 sized multi-rotors such as the 250QAV, Tarot 250, Foxtech Screamer 250 etc.
---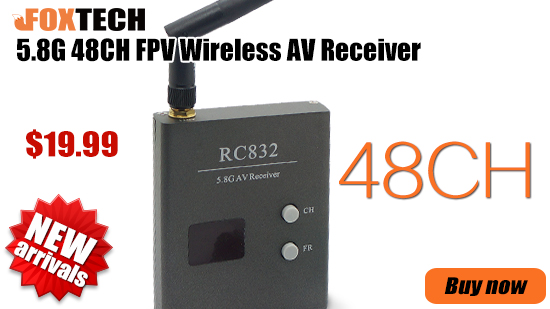 RC832 receiver has the same two button interface as the TS832 Transmitter making channel swapping a breeze. There are two independent AV outputs for both audio and video,easy to use with a monitor/set of goggles/a DVR to record your fligh.It also has frequency memory, so when you power down it will save the last frequency channel you were using.
---