---
New Arrival:
XRotor Pro X8 is an integrated propulsion system which features high stability, reliability and efficiency. The modular design also makes it easy to maintain.The X8 propulsion system also contains a high-brightness LED indicator, you can choose the light color or disable it.
---
Hot Sale:
GAIA 100 is a long flight time hexacopter with high flight performance. The quick detach design makes it easy to transport and quick to set up. GAIA 100 can load with various gimbals, so it can be applied in many fields like police surveillance and evidence collection, disaster prevention, emergency monitoring and rescue etc.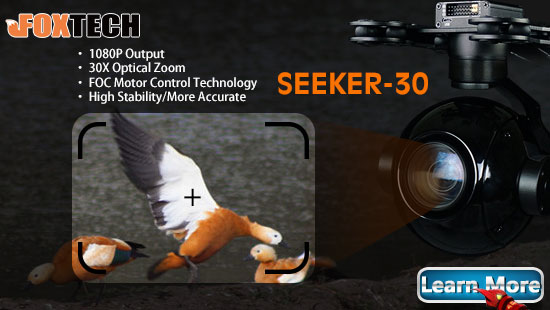 FOXTECH SEEKER-30 is a high-precision professional 3-axis gimbal with a 30X 1080P Optical Zoom Camera. The gimbal features high stability and high precision, the camera keeps so stable during the movement.The zooming function makes it possible to see objects in detail over distance.
---