Note: PG20 Dual Battery Swapping Board is out of stock now. We are accepting pre-order, all pre-orders will be shipped once the PG20 is available, estimated shipping date would be around late October, we are sorry for any inconvenience.
PG20 Dual Battery Swapping Board is a new power governer device for Nimbus VTOL V2. It increased at least 30% flight time of Nimbus VTOL and lowered the discharge rate requirement of the main battery.
CPU will monitor the voltage of two batteries in real time, if voltage suddenly drops below 10V, the battery is supposed to be disconnected and automatically switched to another set of batteries. And the switching time is less than 5ms so there is no spark or power down or interference.
By using this Dual Battery Swapping Board, we can use one smaller but high discharge rate battery for nimbus take off and land, use one big capacity but low discharge rate battery for cruising in fixed wing mode. So we can use at least 95% power of the main battery and still have a safe "multirotor" type landing. Since there are 2 batteries onboard, in case one goes wrong, the other one will replace it immediately.
Note: If equip Nimbus VTOL with PG20, please use 5008 motor as Nimbus tail motor to avoid excessive power consumption while landing.
Specifications:
Battery Interface: 2
Max Input Voltage: 25.2V
Minimum Voltage(Battery A): 10V
Minimum Voltage(Battery B): 10V
Working Temperature: 40°(25V/40A)
Max Working Temperature: 85°
Output Continuous Current: 80A
Output Peak Current: 100A(3s)
Max Output Power: 2000W
PWM Pulse Width Range: 800us~2200us
PWM Signal Amplitude: 5V
Features:
1. Main battery and auxiliary battery switched by PWM signal, Pulse Width Range is 1000us~2000us.
2. When the Pulse Width during 1800us-2200us, switch to B battery.
3. When the Pulse Width during 800us-1200us, switch to A battery.
4. Switch from main to auxiliary battery: When the auxiliary battery voltage is within the normal range, it will be successfully switched to the auxiliary battery and the main battery will be disconnected.
5. Switch from auxiliary battery to main battery: When the voltage of the main battery is within the normal range, it will be switched to the main battery and the auxiliary battery will be disconnected.
Your Purchase Includes:
1x Foxtech PG20 Dual Battery Swapping Board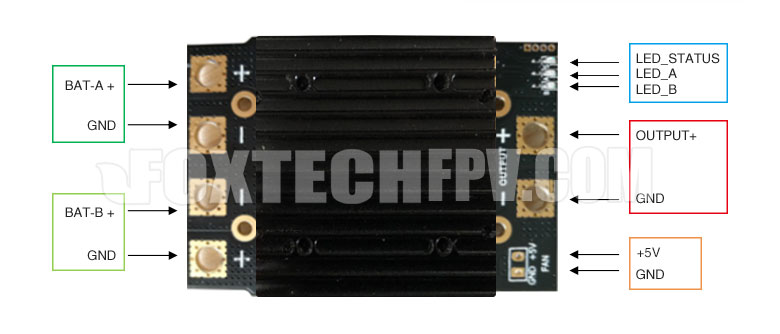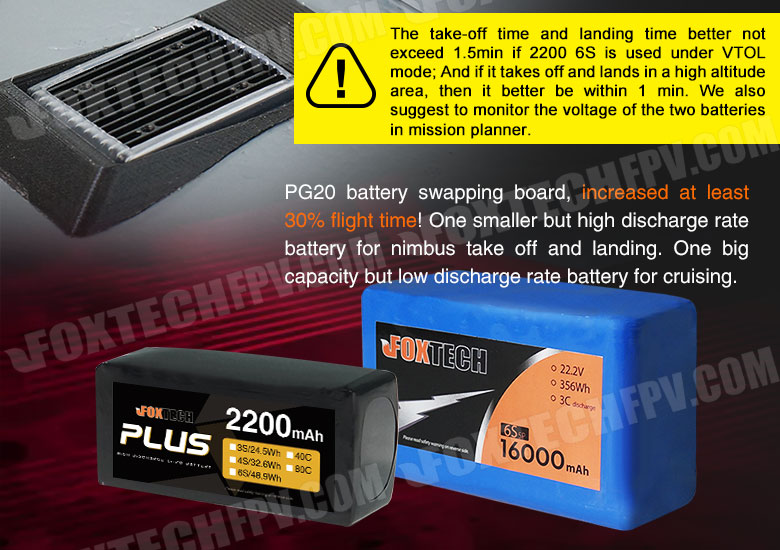 Equip Nimbus with PG20: The take-off time and landing time better not exceed 1.5 min if 2200 6S is used under VTOL mode; And if it takes off and lands in a high altitude area, then it better be within 1 min. Also please monitor the voltage of the two batteries in mission planner.