---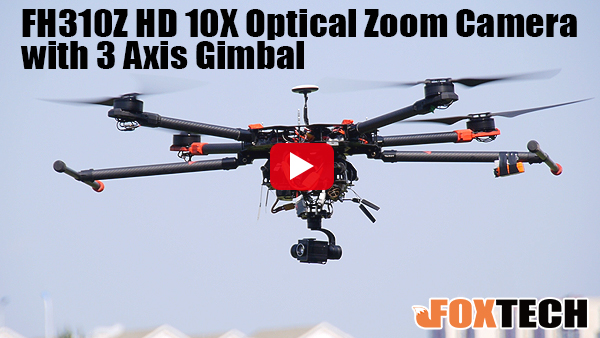 FH310Z HD 10X Optical Zoom Camera with 3-axes Gimbal (Free Shipping)

Want to see more details or what's going on at a certain height or distance? Foxtech FH310Z is an ideal solution for it. The FH310Z is a plug-and-play package with a HD 1080P 10xZoom camera and a 3 axis stabilized gimbal,suitable to inspection, serveillance, search and rescue.
---
Screamer 250 & AT9 Radio Controller

(Presetting)

Foxtech Screamer 250 Pentacopter is a FPV Racing drone to provide an ultimate and incomparable FPV experience.It mainly features in the rear thruster equipped with Foxtech 2208 kv2500 motor and 5" propeller, which can boost the speed over130km/h and makes aerobatic completely different than the ordinary racing copters in the market. With the rear thruster on, the high pitch howling would definitely WOW your club mates at the flying field!
---
Tmotor U13 KV100 Brushless Motor

(Free Shipping)

Do you need high quality propulsion system for your custom multirotor frame? Still searching for a motor with greater load capability?
U13 is the superior choice. Specifically designed, tested and manufactured to suit the high demand of lager multirotor frames.

.
---
Tarot 130 Race Quadcopter & S-FHSS Mini Receiver Combo

Tarot 130 FPV Racing Quadcopter is super light weight, weighs only 138g, which gives you ultra fast flying experience. Naze 32 flight controller, adjustable FPV camera, motors,3inch props and anti-shock landing skid are all included in this combo. It maintains the customary design of Tarot products as well.
This Combo supports T6J/T8J/T10J/T14SG/T18SZ/18MZ Futaba Rc system.
---