Great SHARK 330 VTOL has a 3.3 meter wingspan, and features a highly advanced aerodynamic design. The fuselage of Great SHARK 330 is made of Kevlar material which is very light and durable.
Although the Great Shark is so big, it adopts quick-detach design which makes the plane easy to assemble and disassemble, and easy to transport. The fuselage also has big inner space for flight controller, batteries or other equipments, like oblique camera etc.
The Great Shark 330 VTOL can fly longer and load more payload. The max. payload is about 5kg. The frame of Great SHARK is 6kg, and max take-off weight is about 20kg, the great shark can fly about 2.5 hours with 2kg payload, and fly 3 hours with no payload. The cruising speed of the Great SHARK can reach 26m/s. The Great Shark 330 VTOL can take off and land vertically in a very small area.
In this Great SHARK VTOL plane we suggest to use two 6S 8000mAh Lipo for VTOL mode, and four 6S 16000mAh Li-ion battery for Fixedwing mode. The Great Shark 330 VTOL equipped with FH230 TR 30X Optical Zoom Camera and gimbal can be used to do long range inspection, equipped with3DM V3 Oblique Camera or Map-A7R can be used to do 3D modeling, oblique mapping and ground survey etc.
Note: The Great Shark will be shipped 7 days later after the order is made, please contact customer service staff for specific delivery date.
Specification:
Wingspan: 3300mm
Length: 1750mm
Frame Weight: 6.35kg
RTF Weight: 9kg(w/o battery, payload)
Max take-off weight: 20kg
Endurance: 2.5 hours(with 2kg payload); 3 hours(no payload)
Suggest Max. Payload: 5kg
Cruising speed: 22m/s
Battery: 2x 6S 8000mAh Lipo(VTOL mode), 4x6S 16000mAh Li-ion(fixedwing mode)
Take-off/Landing: VTOL
Your Purchase Includes:
RTF Combo:
1x Foxtech Great Shark VTOL Frame
1x High Efficiency Tail Motor
1x Tail ESC
1x Propeller for Tail Motor
4x Servo
4x Motor for VTOL Mode
4x ESC for VTOL Mode
2x Propeller for VTOL Mode
1x Px4 Air Speedometer
2x UBEC
2x Power Monitor Module
1x Pixhawk 2.1 Standard Set with Here 2 GNSS
1x DA16S+ Radio Controller
1x Assembling, tuned and Flying Test Service

Option:
4x 6S 12500mAh Li-ion battery(Fixedwing mode)
2x 6S 10000mAh Lipo battery(VTOL mode)
FOXTECH 3DM V3 Oblique Camera for Mapping and Survey
FH230 TR 30X Optical Zoom Camera with 2-axis Gimbal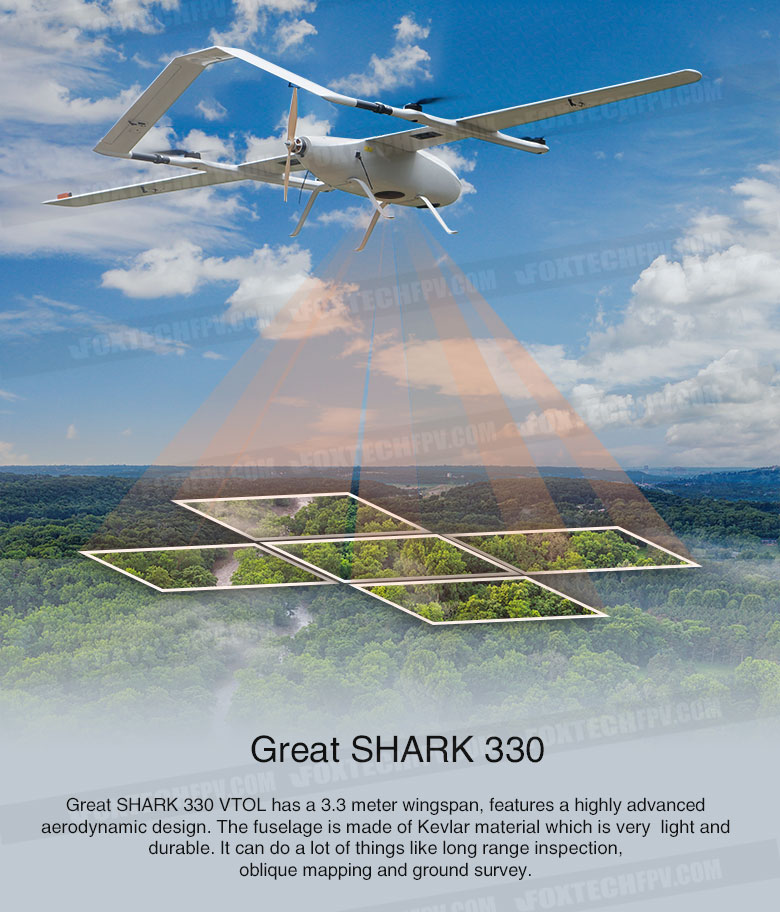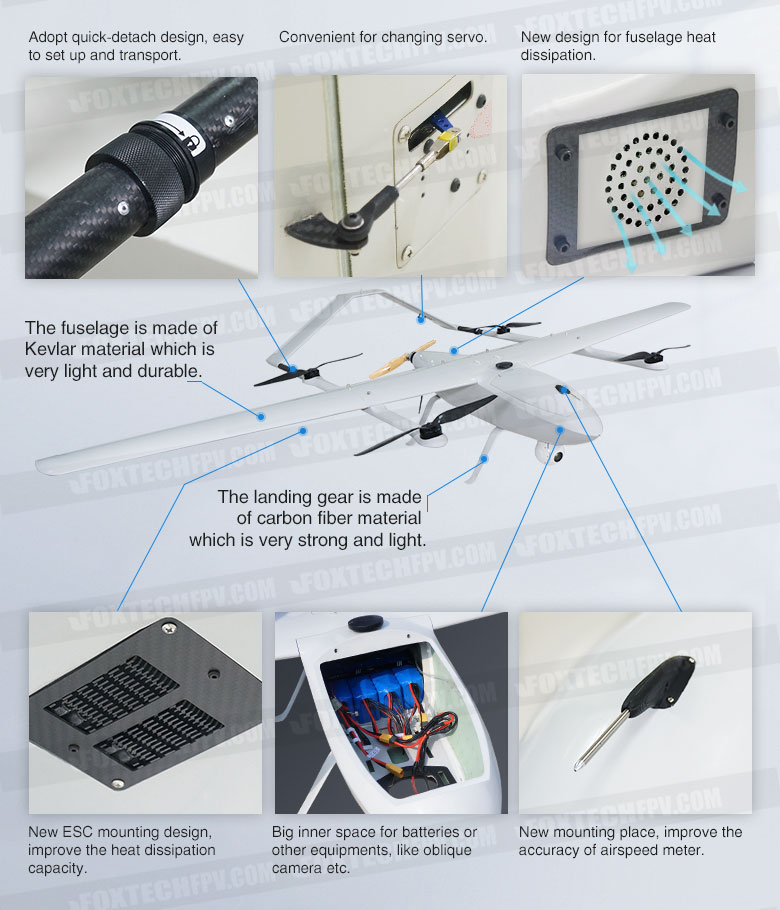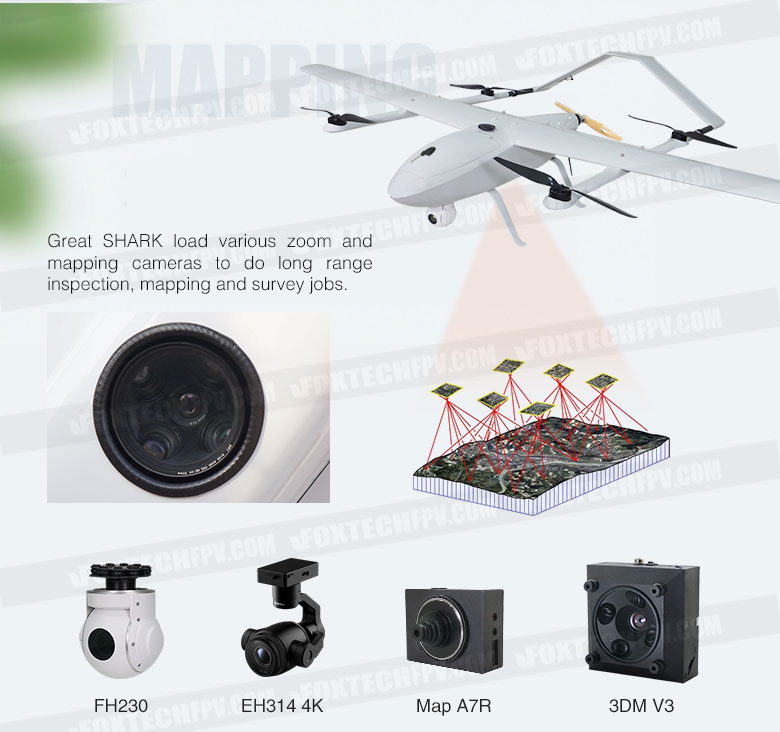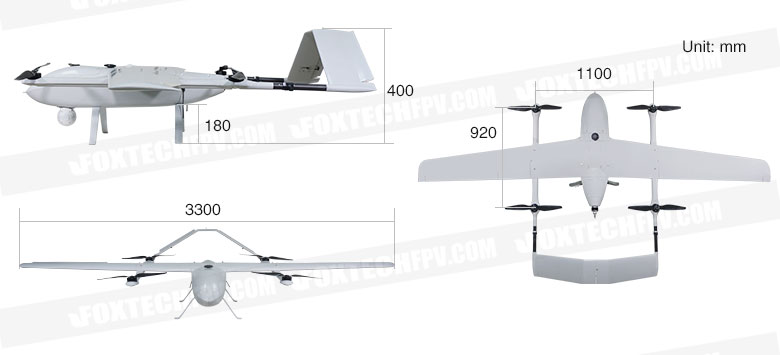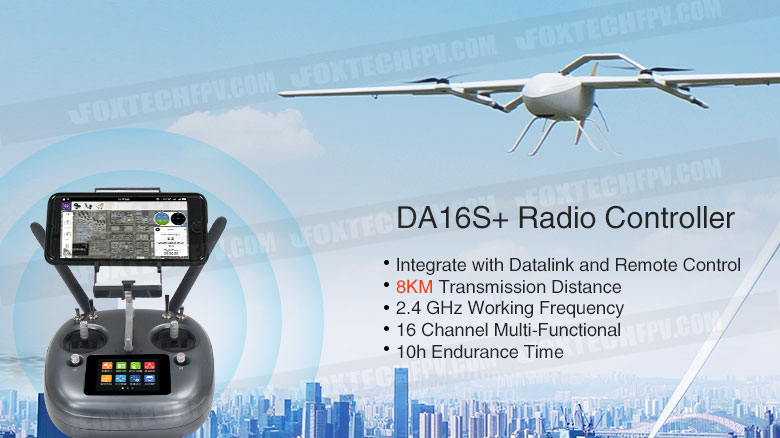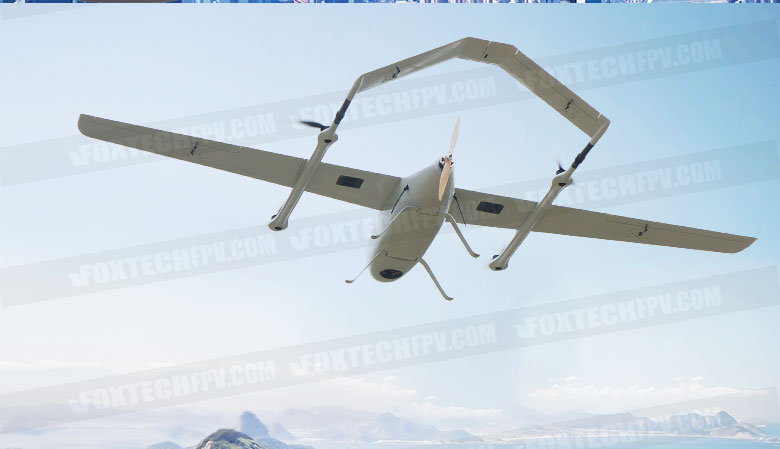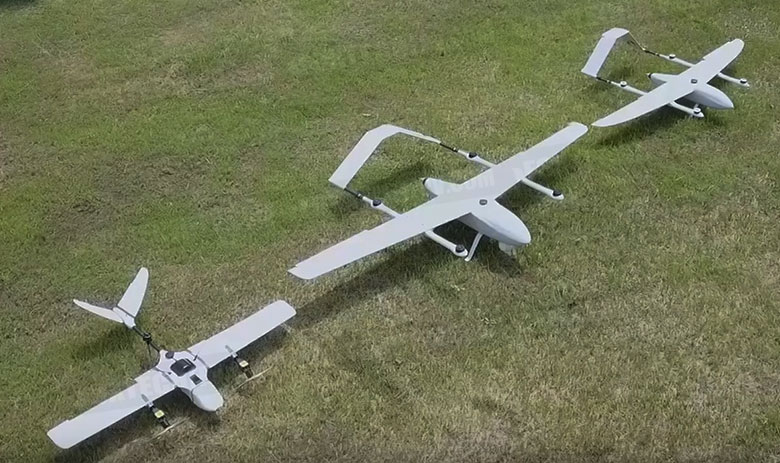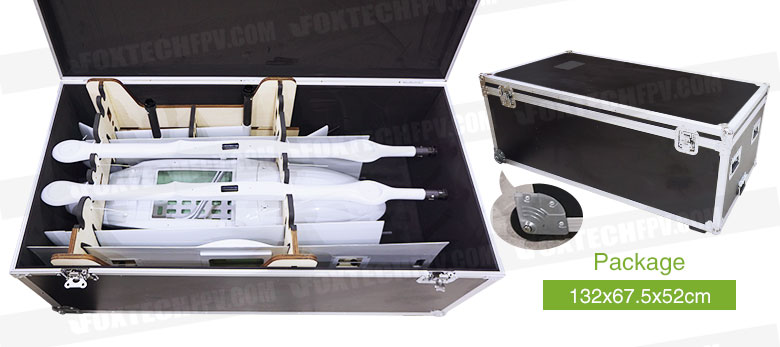 Note: The aluminum box for Great Shark can be customized, please contact [email protected] to learn more about size and cost.