Note: If you have any customization requirements for Krane 130, please reach out to our sales or send us an email.
Krane 130 is a modular-design electrical quadcopter with a 10 kg loading capacity and a max 120 min flight time, which makes it an ideal platform for inspection, delivery and dropping.
The whole UAV adopts a modular design with the arms, the batteries, the mission payloads, and the propellers, so it is possible to assemble it within 3 min by one operator.
Two 7S 28000 mAh batteries provide Krane 130 a flight time of max 120 min at no payload, and it can still fly for 30 min with 10 kg payload.
Krane 130 can equip with dual GPS for easier flight preparation and higher positioning accuracy.
Quick-mount structure for the mission payloads mounting, such as gimbal camera, LiDAR scanner, cargo delivery box, cargo release and drop device, megaphone, light, etc., allows multiple-mission-payload-mounting to carry out one task, such as synchronized inspection with upward-mounted and downward-mounted gimbal cameras, cargo delivery using a winch and LiDAR, etc.
Note: For our valued customers from Jordan interested in purchasing our drones, please kindly contact our distributor directly at [email protected]. We appreciate your understanding and thank you immensely for considering our products.
Highlights:
120MIN Flight Time
10KG Loading Capacity
Modular Design
Your Purchase Includes:
1x Krane 130 Quadcopter
1x GPS Module
1x Flight Controller
1x Ground Control Station
2x 7S 28000mAh Battery
1x Battery Charger
1x Carrying Case
Optional Components:
GPS Module: Dual GPS, etc.
Radio Controller: MX16 Pro(30 km), etc.
Mission Payload: mapping/filming cameras, inspection gimbal cameras, LiDARs, RTK modules, cargo release & drop devices, cargo delivery boxes, megaphones, lights, etc.
Specification:
Version: Krane-130 Electrical Quadcopter
Wheelbase: 1250 mm
Size: 1040*1040*270 mm(Unfolded)
Propeller: 32*12
Basic Empty Weight:
4 kg(Exclude battery)
Endurance:
120 min @ no payload
90 min @ 1 kg payload
60 min @ 5 kg payload
30 min @ 10 kg payload
Max Take-off Weight: 20 kg
Max Roll Angle: 150°
Max Pitch Angle: 25°
Climb Speed: 3 m/s
Descend Speed: 2.5 m/s
Max Speed: 15 m/s
Service Ceiling: 5500 m
Wind Resistance: Level 7
Storage Temp: -10~45℃
Working Temp: -20~45℃
Battery: 2* 7S 28000 mAh
Working Voltage: 25.2V(7S)
Material: Carbon Fiber, CNC, etc.
Control Range: 5~30 km(Optional)
Carrying Case: 1150*420*355 mm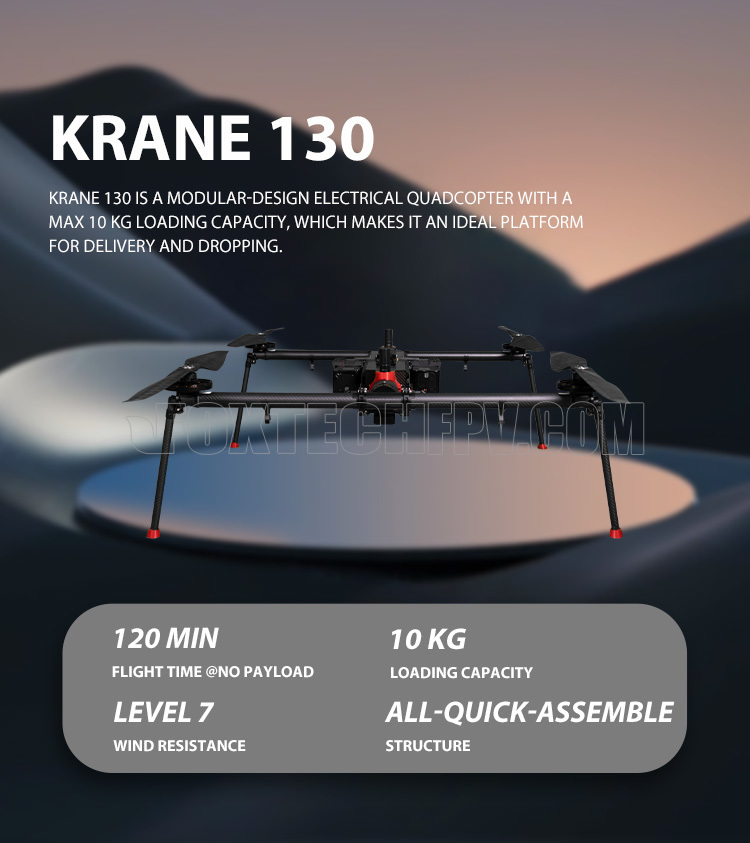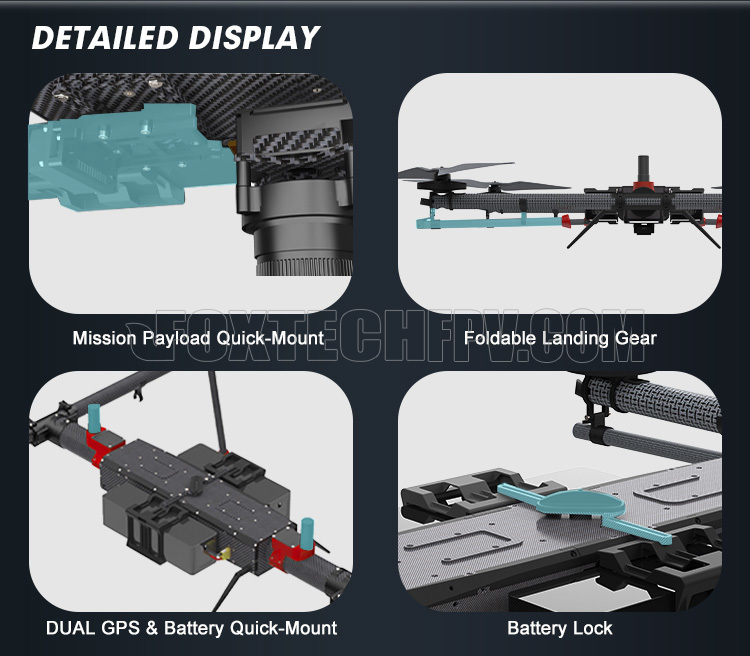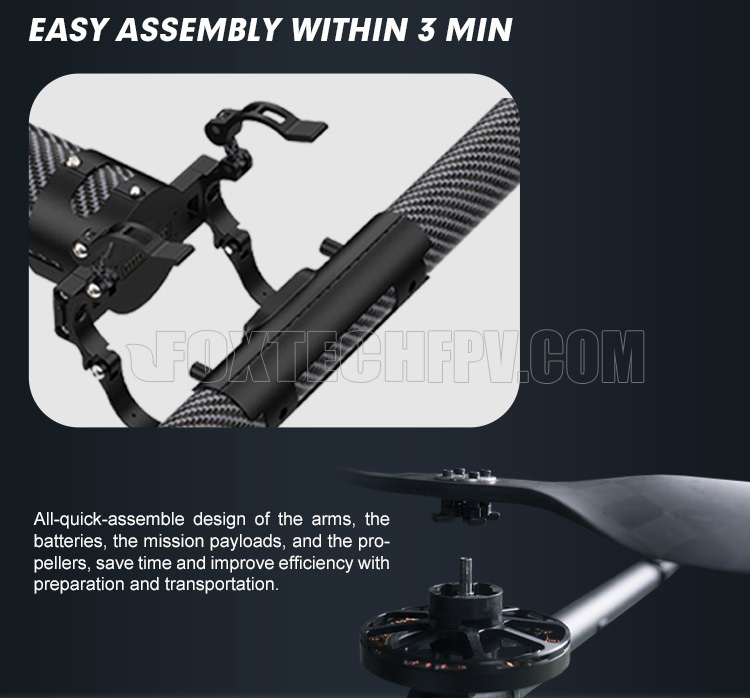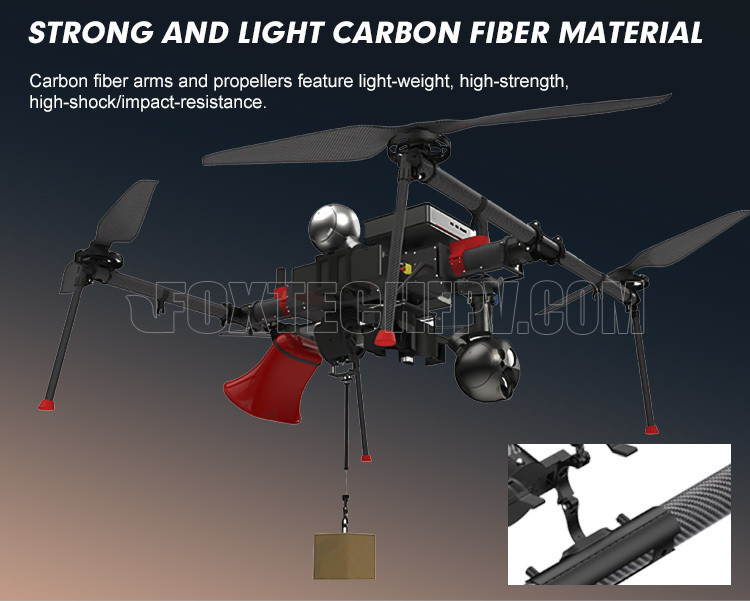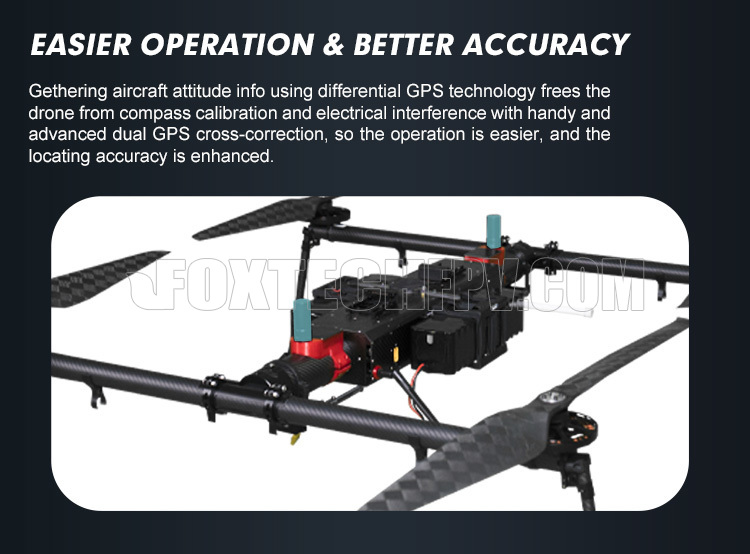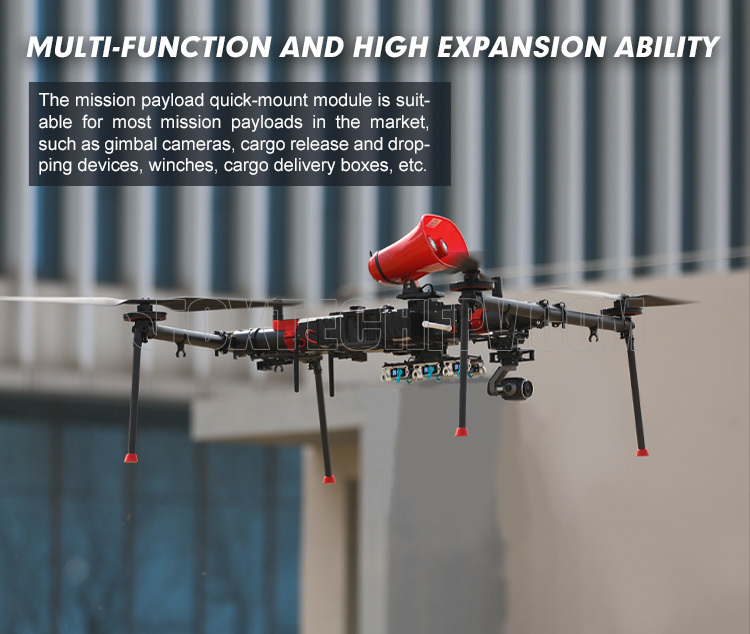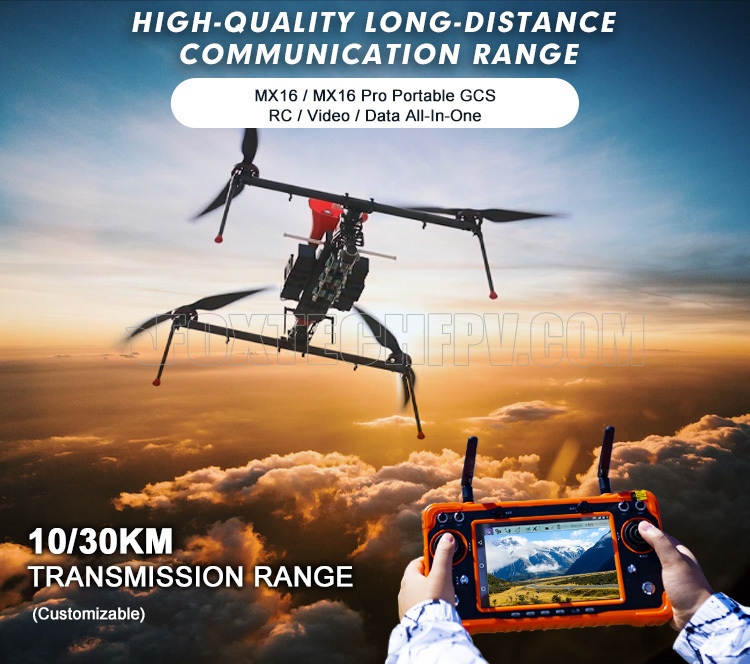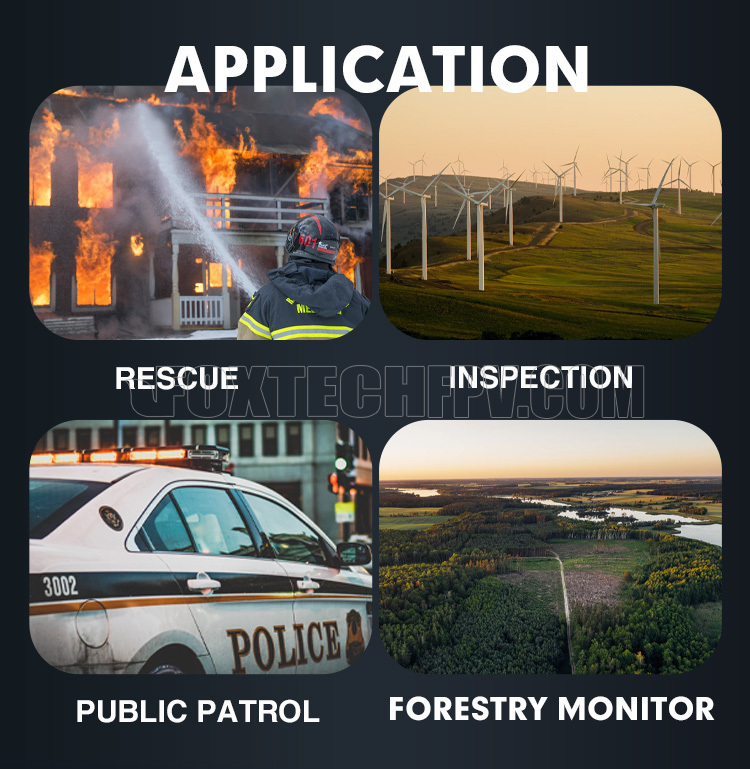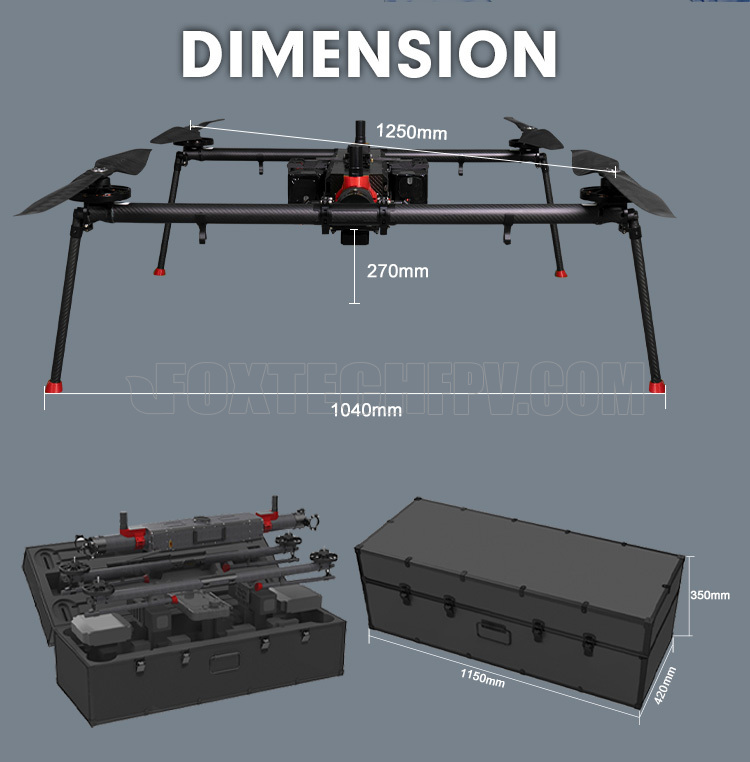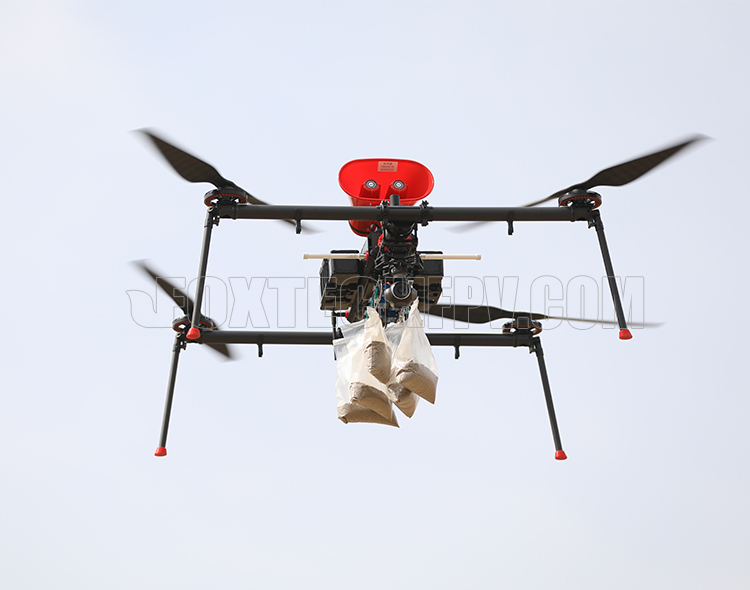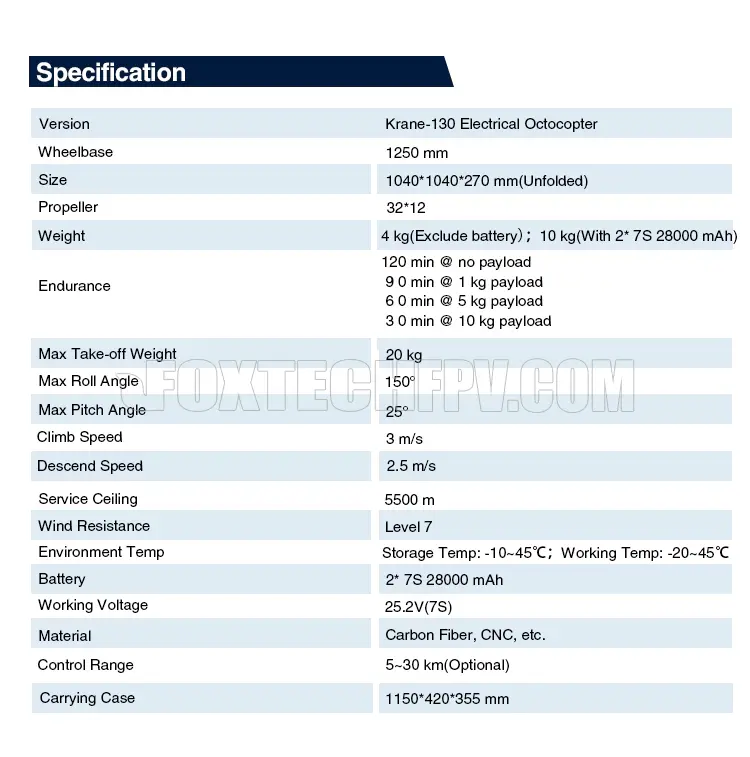 Note: If you have any customization requirements for Krane 130, please reach out to our sales or send us an email.